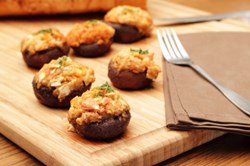 Greensboro, North Carolina (PRWEB) September 11, 2013
September is National Mushroom Month and LA Weight Loss is celebrating. Why? Mushrooms are versatile little powerhouses that can be added or substituted into recipes, lowering calorie counts and boosting nutrition for quick, healthy meals.
With only 18 calories per serving, many wrongly assume that mushrooms are mostly made of water, containing little nutrition. On the contrary, mushrooms are a good source of the antioxidant selenium, B vitamins riboflavin and niacin, and contain close to 300 mg of potassium per serving. Theyre also one of the few foods in the American diet that offer a natural source of vitamin D, with 15 IU per serving.
While September is National Mushroom Month, its natural to wonder: how often someone can really build a meal out of mushrooms? In reality, many of LA Weight Loss top-rated recipes contain mushrooms either as a key or secondary ingredient. On their own, mushrooms make great additions to traditional comfort-food dishes such as lasagna, mac `n cheese or burgers because they add a meaty texture and subtle flavor without the calories or fat that additional meat or cheese would contribute. As part of an LA Weight Loss recipe, mushrooms play a key or supporting role in the following delicious dishes and all have been designed to keep those weight-loss goals on track.
White Chicken Chili Enjoy a fall favorite with this recipe. Lean ground chicken, mushrooms and white beans star in this protein-packed hearty chili. Tomatoes, chicken broth, garlic and plenty of spice heat things up when its cold outside. Find full instructions in the Celebrating Chicken cookbook.
Crab Stuffed Mushrooms Make entertaining easy with flavorful, make-ahead crab-stuffed mushrooms from the LA Weight Loss Appetizer cookbook. Before guests arrive, detach mushroom stems from caps. Chop stems and saut