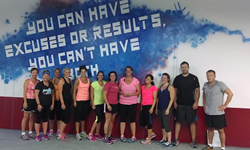 Norton Shores, MI (PRWEB) October 31, 2014
The Fit Body Boot Camp franchise, with locations worldwide, is known for their body transformation challenges. Now Norton Shores' premier fitness boot camp, Lakeshore Fit Body Boot Camp, is about to begin their first 6-Week Body Transformation Challenge and they encourage anyone who needs to lose at least ten pounds to sign up soon.
"Our transformation challenges have a limited number of slots available and their always very quick to sell out, so we urge anyone who's interested in burning some real fat real fast to sign up as soon as possible," says co-owner Tabitha Johnson.
The challenge is open to both members and non-members of the fitness boot camp. Members pay a low rate of $ 60 for the six weeks, while non-members are able to purchase all six weeks of training for just $ 125 or a little over $ 20 per week.
The six week challenge includes unlimited boot camp sessions with certified trainers, nutritional guidance and meal plans, fitness assessments, progress tracking, accountability, and a chance to win many prizes, including a grand prize of $ 500.
Johnson is co-owner of Lakeshore Fit Body Boot Camp with Grant Sechen and she says that they both had very personal reasons for becoming certified personal trainers.
"Grant's passion stems from a severe car accident his family was in that left his brother with permanent brain damage. Doctors said he would never walk again, but with great medical help and exercise he walked across the stage and accepted his high school diploma," says Johnson. "I lost my mother at the very young age of 67 due to health problems that started with an unhealthy lifestyle, all of which could have been prevented with good diet and regular exercise."
Johnson and Sechen are excited about their first six-week challenge, which they say is a great way for people to try out the fitness boot camp method of building strength and burning fat.
The boot camp is located at 6516 Schamber Drive, Norton Shores, MI and anyone who'd like to register for the challenge can do so at a special webpage that has been set up for the event at http://www.fitbodybootcamp.com/lakeshorefitnessbootcamp/6-week-challenge/. Registrants will need to attend one of two orientation meetings, either Wednesday Oct 29th at 7:30 pm or Sunday Nov 2nd at 6pm.
About Lakeshore Fit Body Boot Camp
Lakeshore Fit Body Boot Camp is part of the Fit Body Boot Camp family of indoor fitness boot camps, whose global goal is to engage 20% of the world's population in a healthy and fit lifestyle by the year 2020. Lakeshore Fit Body Boot Camp is owned and operated by Tabitha Johnson and Grant Sechen. Tabitha and Grant are committed to helping members of the Norton Shores community set and accomplish their own health and fitness goals.
For more information about the Boot Camp, please call (231) 766-8629, visit the website at http://www.lakeshorefbbc.com/ or their Facebook page at https://www.facebook.com/fitbodybootcamplakeshore
Related Fitness Exercise Press Releases