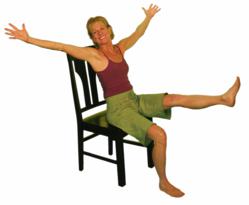 Huntington Beach, CA (PRWEB) October 26, 2012
Dr Melanie Brennan, PT, DPT, LVCYT was responsible for establishing a Lakshmi Voelker Chair Yoga program at the Dan Abraham Healthy Living Center at the Mayo Clinic Rochester for Employees and spouses in 2008. This program specializing in disabled and senior fitness provided 50 minute sessions each week with 15 to 20 participants per class. Individuals received gentle yet highly effective chair yoga classes geared to all ability levels. This program has been well established for over three years.
Dr. Brennan now owns and operates Exercisabilities, Inc. Due to an ever-increasing demand for the specialized fitness the company offers, it is expanding into a 2,300 square foot facility opening January 1, 2013. They offer physical therapy, fitness training, and one-on-one wellness interventions. A key component of these offerings is the customized Lakshmi Voelker Chair Yoga group and private sessions. These sessions target those with specialized needs including (but not limited to) Parkinson's, stroke, spinal cord injury, Multiple Sclerosis, brain tumor, Cerebral Palsy, and neuropathy.
Dr. Brennan has been motivated throughout her years as a PT to provide a space where those of varying ability levels and specialized needs can attain the same quality of wellness services as is available to those without the presence of a physical limitation or disability. The expanded center will be a setting focused on neurological disorders and the effects of aging. In this facility, safe and effective wellness solutions will bring improved physical capabilities such as muscle strength. Exercisabilities will also be focused on building the inner mental strength of those that otherwise feel negatively challenged in the mainstream fitness world. Dr. Brennan is particularly excited to have Lakshmi Voelker Chair Yoga available as a large part of these offerings.
Dr Melanie Brennan, PT, DPT, LVCYT, spent 13 years working for the Acute Rehabilitation Center at the Mayo Clinic in Rochester, MN. She was responsible for bringing Lakshmi Voelker Chair Yoga to the Mayo Clinic and establishing regular classes there. For the past three years, she has been the owner of Exercisabilities, Inc., a physical therapy and fitness company providing wellness solutions for those with specialized needs through aquatics, Lakshmi Voelker Chair Yoga, and other fitness modalities.
Lakshmi Voelker, E-RYT 500, YA, IAYT, has over 40 years in the fitness industry. She created Lakshmi Voelker Chair Yoga in 1982. Creator of the DVD Get Fit Where You Sit and the CD Lakshmi Voelker Chair Yoga, she has certified more than 700 teachers nationally and internationally, including health-care professionals at the Mayo Clinic and the New York City Department of Education. She does live certifications all around the United States. She also offers Online Teacher Training over Skype. For more information on all her certification programs, click here. http://www.getfitwhereyousit.com