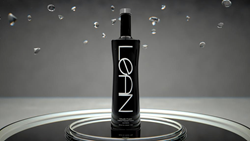 Tampa, FL (PRWEB) February 17, 2015
Healthy vodka seems more like an oxymoron than a true beverage breakthrough. But the entrepreneurs behind Lean™ Vodka considered the health conscious consumer when crafting the ultra-premium spirit. The growing market for healthier alcoholic beverage options creates a whole new meaning to the phrase, "drink responsibly." Gluten-free, herb-infused, Lean™ Vodka boasts about 1/3 fewer calories than other vodkas and challenges healthful connoisseurs to heed their motto and, "Lean Responsibly."
An estimated 70% of the American adult population consumes alcohol regularly. Statistics show the majority of this population is overweight.
"Too often alcohol is ignored, either erroneously or purposely, when consumers are creating a diet or wellness plan," says Brent Agin, M.D., Co-Founder of Lean™ Vodka. Dr. Agin—co-author of Superfoods for Dummies and Healthy Aging for Dummies—says even the most diet-conscious often fail to consider the calories and carbohydrates in drink mixers, beers, cocktails and spirits. "This can become a major problem and often leads to poor results and weight-loss and wellness program failures. With so many people wanting to look and feel great, it is important to extend calorie and carbohydrate control to include alcohol choices" he says.
As a health fanatic himself, Dr. Agin knew there were plenty of ways to make healthier alcoholic beverage choices, but other than light beers, he saw few beverage companies offering clean, low-calorie spirits. He wanted to create a spirit that could become a simple and sensible choice, not only for himself, but to recommend to his clients as well.
"The health and wellness movement has already started, and we are excited to have an amazing tasting vodka to support the demands of sophisticated, well-minded drinkers." says Dr. Agin, who envisions a dedicated section showcasing lower-calorie spirits in liquor stores of the future.
The LeanTM brand combines exclusive distilling technology and herbal infusion to create its premium vodka. Lean™ is available in three varieties – Regular, Vanilla and Yumberry (yang-mei fruit with a berry flavor) each of which is infused with ginseng, green tea and guarana. LeanTM is refined by a patented distilling process that reduces the impurities in liquor caused by traditional distillation methods, resulting in full flavor and a smoother finish than other vodkas. Lean™ Vodka is distributed by Republic National Distributing Company and is available now in select restaurants and retailers in the Tampa Bay area.
Nick Pappas, owner of popular Tampa Bay restaurants FlameStone American Grill and Besa Grill, loves the idea of offering a healthier beverage option to his customers. "Lean Vodka has a new kind of appeal in where their niche is not just low-calorie, but with the added benefit of making their alcoholic beverage choices be a part of an active and healthy lifestyle. We are excited to offer Lean™ Vodka to our customers," says Pappas.
About Lean™ Vodka

Lean™ is your waistline's favorite vodka. Lean™ Vodka is an ultra-premium, herb-infused, low-calorie vodka created with the sophisticated and health conscious connoisseur in mind. Made with the purest spring water and finest quality grains, Lean™ is the first low-calorie, ultra-premium vodka, and the first to infuse its spirit with herbs including green tea leaf, ginseng and guarana. Lean™ is available in three varieties: Regular, Vanilla and Yumberry (30% alc. / vol., 60 proof) in 750ml for a suggested retail price of $ 34.99. For more information visit LeanVodka.com or call (866) 801-8411. Like and follow us on social media: Facebook.com/LeanVodka; Twitter.com/LeanVodka; Instagram.com/LeanVodka.