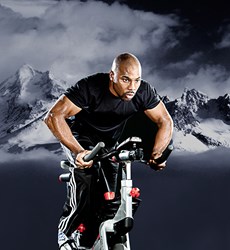 Pleasanton, California (PRWEB) February 11, 2014
Leisure Sports Inc., the creators of ClubSport, Renaissance ClubSport and The Studio fitness clubs, just launched their latest fitness concept, The Quad. The Quad is unique in that it brings together multiple fitness modalities that traditionally are held in standalone studios. Its an unpretentious fitness facility that will meet the training needs of exercisers of all levels.
Named after the traditional collegiate gathering place, The Quad seeks to build a community of health- and fitness-focused individuals. Its distinctive feature is that its five fitness clubs in one. The Q fitness center has all the cardio and weight training fitness equipment needed for a complete workout. Surrounding the Q are four specialized fitness components: CrossFit NST, Undisputed Boxing, Air Fit, and Absolute Barre.
We are really excited about this new concept, said Erin Gilmour, Director of Programming for Leisure Sports. Having five distinct fitness clubs in one is like having a fit mall where each store offers a different type of exercise performance with die-hard enthusiasts participating.
CrossFit NST, Undisputed Boxing and Absolute Barre currently offer more than 30 classes per week, and each is offering a trial membership, which is available through the website.
Air Fit altitude training is due to open in March. The largest altitude training room of its kind in North America, Air Fit will offer total body fitness classes in a controlled altitude environment that could range from 5,000 to 12,000 feet. Altitude training has been shown to increase VO2 max and increase power and speed, decrease body fat, enhance endurance and reduce recovery time.
The Air Fit component is truly unique. Simulated altitude training was once only for elite athletes, and we are very excited to bring it to the masses, said Dennis Dumas, Director of Wellness for Leisure Sports. It will revolutionize how people train for general fitness.
The Quad also has the amenities to match the top-notch fitness experience it provides. Members have access to fully-appointed locker rooms as well as childcare for children six weeks to 11 years of age.
About Leisure Sports Inc.

Leisure Sports owns and manages fitness clubs and hotels in California, Oregon and Nevada. Leisure Sport facilities are known for their uncompromising quality and an unparalleled array of programs and amenities designed to meet the health and fitness needs of individuals and families forging a healthy and active way of life.
Related Fitness Exercise Press Releases