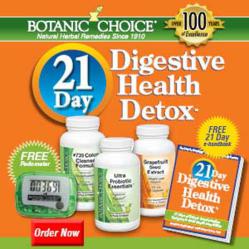 Los Angeles, CA (PRWEB) December 04, 2012
Stella Metsovas, will release the first ever Digestive Health Detox: 21 Days of Dietary Transformation Designed to Build Health from Within. The detox is intended for weight loss and to bring balance to the digestive process.
The detox includes two main components: one ingredient foods and pre-specified dietary supplements. Stella uses the one ingredient approach because the foods are unprocessed and nutrient rich, which she says is, exactly as nature intended it to be. The dietary supplements, from Americas oldest vitamin company, Botanic Choice, will include colon-cleansing, probiotics, and grapefruit seed extract. The three supplements will work in harmony with the foods and nutrients in the detox system. Within the detox manual, Stella outlines a detailed meal plan, complete with detox recipes, along with a grocery list of one ingredient and power food choices. The grocery list includes foods such as herbs, coconut oil, turkey, brown rice, broth, onions and garlic, and lemons. Among her power foods are cucumbers, broccoli, kale and Swiss chard, berries, olive oil, and salmon. More recipes and diet suggestions can also be found on her website, http://stellametsovas.com/.
Week 1 of the detox is a taste reset. During this week, users of the detox will stop consuming artificially enhanced processed foods and return their taste palates to normal. During week 2, detoxification is key. Stella explains how digestive and metabolic changes will occur that will lead to more energy, with marked, overall improvement in health. She notes to look for more energy, improved moods and cognition, weight loss, frequent bowel movements, and less bloating. Week 3 strives for master reset. Detox participants will continue to feel better and learn to look at foods differently. In addition, Stella provides a pre-detox self-test and a post-detox self-test to gauge total progress.
According to Stella, diet is 95% of your health, but over 75% of consumers admit they dont know how to eat to lose weight effectively. Stellas main goal is to teach you how enhance digestion. With her goal in mind, Stella advises using the detoxification system every four months for optimal results. Her recommended detox intervals include January, May, and September, for the start of the year, the end of winter, and the end of summer.
The 21-day detox focuses on optimum digestion and metabolism by emphasizing low-allergenic, unprocessed foods as ideal. The manual along with a new website, http://www.21daydigestivehealthdetox.com is now live.
Indiana Botanic Gardens, Inc. is a leading retailer of more than 500 high-quality herbal remedies, vitamins, nutritional supplements, and liquid herbal extracts which are sold through their catalogs, web site http://www.BotanicChoice.com, and retail store at 3401 West 37th Ave, Hobart, Indiana (800-644-8327). Free catalogs are available upon request online or phone.
These statements have not been evaluated by the Food & Drug Administration. These products are not intended to diagnose, or prevent any disease.