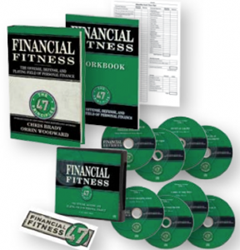 (PRWEB) September 18, 2014
LIFE Leadership's 'Financial Fitness' offers valuable advice for anyone who wants to tighten up his or her budget and live a financially "fit" life. In fact, the advice is so practical and helpful that the book has been recognized by several groups as a valuable contribution to the knowledge base of personal finance. In March, 'Financial Fitness' was awarded the Personal Finance Silver Medal in the 2014 Axiom Business Book Awards. And just recently, in another confirmation of the soundness of its financial principles and its effectiveness at teaching them, the book received the Bronze Medal in the Finance / Budgeting / Business category of the 2014 Living Now Book Awards.
Developed by the founders of LIFE Leadership, including 'New York Times' bestselling authors Orrin Woodward and Chris Brady, 'Financial Fitness' is a candid look at personal finance and how the decisions individuals make affect their overall financial health. The authors explain that just as with becoming physically fit, becoming financially fit is a matter of having the right information and taking action on that knowledge.
With this book, the founders of LIFE Leadership say they aim to make finding the right information for becoming financially fit and the inspiration to act on it convenient and easy for readers. They say, "We call it 'The Money Thing': that elusive, often difficult mystery of acquiring, keeping, and continuing to produce enough money to be able to live the life of our choosing. While prescriptions and advice about one's money are as available and varied as diet plans for one's physical health, financial fitness appears to be as rare a thing as 3% body fat and proper cholesterol. But it doesn't have to be that way."
Therefore, the book provides forty-seven principles covering all of the important aspects of personal finance (the offense, or making money; the defense, or budgeting and discipline; and the playing field, or rules and philosophy of money). By doing this, the authors hope to show readers that, regardless of their current financial situation or the present economic climate, they can learn to prosper and conserve the fruits of their labor and master their money simply by understanding these basic principles of financial success and applying them to their lives.
And because they believe firmly that digesting small bits of wisdom and truth consistently over time helps people develop the right habits for success, the founders of LIFE Leadership say they have also created a series of products to support and reinforce the material taught in the book. Their 'Financial Fitness Pack' contains everything needed to begin the journey to sound financial health, including a copy of the 'Financial Fitness' book; a 'Financial Fitness Workbook,' which provides exercises and financial forms designed to put readers on the right path to understanding money and help them with budgeting, planning, and tracking; a 'Financial Fitness' decal; and eight CDs: "The Offense and Defense of Personal Finances," "Money View," "Money as a Slave," "The Principles of Financial Management," "Delay Your Gratification," "Live within Your Means," "Camel in the Tent," and "Good as Gold."
In addition, they have created a twelve-month subscription package expounding on the time-tested principles and outlining what they have learned firsthand about financial fitness. Subscribers receive one audio recording per month, for a full year of reinforcement and encouragement to continue working toward financial goals.
For more information on the 'Financial Fitness' book, the 'Financial Fitness Pack,' or the Financial Fitness Subscription, visit http://bit.ly/1u9DiCL.
About LIFE Leadership:

LIFE Leadership is based on the collective experience and wisdom of today's best financial minds. The founders are internationally recognized business and leadership experts and bestselling authors, including 'New York Times' bestselling authors Orrin Woodward and Chris Brady. They teach time-tested principles and strategies for growing and maintaining wealth in any business and any economic situation through their books, audios, live events, online Rascal Radio station, podcast recordings, and more.
Find More Fitness Exercise Press Releases