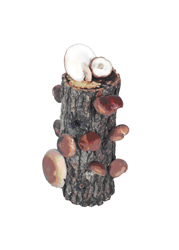 Perkins, OK (PRWEB) July 29, 2014
Doug and Sandra Williams have been growing shiitakes on hardwood logs for over 25 years and selling their grow-your-own log kits for almost that long. Naturally, these gourmet mushrooms are a staple in the Williams' diet and a treat for their guests. A new video has just been posted, adding a different perspective to the Lost Creek Mushroom Farm online coverage.
They started growing their mushrooms for sale to grocers and chefs, but soon turned to selling the logs instead of the mushrooms, as it was nearly impossible in the 1990s to buy shiitakes in most stores in the US and to sell shiitakes in Oklahoma.
Sandra explained. "In Oklahoma in the early 90's, few Americans and very few Oklahomans knew anything about this new mushroom with a Japanese name. TV chef Jeff Smith, The Frugal Gourmet, introduced shiitake mushrooms on his PBS cooking shows. He urged people to use shiitakes instead of white button mushrooms because shiitakes are high in protein and have so much flavor. They appealed to his love of "frugal" cooking because fewer mushrooms are needed to make a flavorful, nutritious, and healthful dish with shiitakes, even though they were, and are, more expensive than button mushrooms."
Fresh shiitakes could be found only in gourmet and high-end food stores and in expensive restaurants. Dried shiitakes were not well known and available only in Oriental markets. Today, shiitakes are familiar to many people in the US, are available fresh and dried in most food stores and they are the world's second-most popular mushroom. They are highly valued in Japan and China for their medicinal properties. Shiitakes are used to treat cancer and AIDS and to stimulate and strengthen the immune system. Shiitake supplements and shiitake combined with other medicinal mushrooms are available in every health food store and online natural-health product site.
Shiitakes are grown on hardwood logs at Lost Creek Mushroom Farm (See how they're grown).
When customers order their log kits, Doug hand-picks logs that are ready to fruit. Sandra and her office staff ship them across the US and into Canada. When the log arrives at its new home, the owner soaks it in non-chlorinated ice water for 24 hours. In 6-10 days, the fresh, organic mushrooms are ready to harvest.
The shiitake mushroom logs live indoors like plants and can be grown outside in shade. Logs require regular soaking about every two weeks in room-temperature, non-chlorinated water. Every two months, soaking in ice water starts the fruiting cycle again. Logs will grow shiitakes for up to four years. Kits 9-10 inches and larger are fully guaranteed to grow shiitakes.
Lost Creek Mushroom Farm Kits range in size from the 6-inch 'Shroomie to 14-inch logs in their own soaking trays. Prices range from $ 18 to $ 50, $ 80 for the Best Buy with two 14-inch tray kits, and include shipping.
Kits are also available at slightly higher prices on Amazon.com, where Lost Creek Mushroom Farm has received Top-Seller Awards.
This month, family friend Jim Haynes from Hillsboro, Kansas, stopped by for a visit. A video buff, Jim filmed the fungus-loving couple Doug and Sandra cooking an easy, fast shiitake dinner for friends.
"Fantastic," is Jim's description of their not-your-usual mushroom and rice dish. The recipe: red rice (purchased from an international market), sautéed onions, sautéed shiitakes sprinkled with salt and pepper and garlic powder, chopped red bell peppers, frozen or fresh green peas partially cooked. Sandra soaked them in boiled-hot water for a few minutes. Seasonings: basil, oregano.
"The quantities don't really matter, as long as you have enough food for everyone at your table," Doug said. "The red rice has a rich flavor; shiitakes have a lot of flavor and a meaty texture. The red peppers and peas add color and a little crunchy texture. We heated everything together in a crock pot for the peppers and peas to heat through, but not get soft; and for the flavors to blend."
"What the video doesn't show," Sandra added, "is that the pot was empty at the end of the meal."
For more information, recipes, and to order log kits and more products, visit http://www.shiitakemushroomlog.com. Order by phone at 1-800-792-0053.
A portion of sales is donated to the Williams' Mushrooms in Ghana Project, teaching West African small-scale mushroom farmers, most of them women, ways to increase production and profits with oyster mushrooms. The Williams are searching for ways to grow shiitakes on tropical wood species, so farmers can diversify crops and expand production.
Related Recipes Diet Press Releases