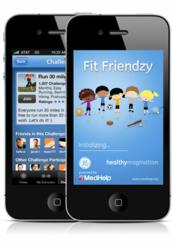 San Francisco, CA (PRWEB) April 11, 2012
In promoting her vision for a healthy and fit nation, Surgeon General Regina Benjamin, MD, awarded MedHelp and GE's Fit Friendzy Exercise Challenge app high marks in the first ever Healthy App Challenge.
Fit Friendzy was one of two apps in the Fitness/Physical Activity category to be recommended by the Surgeon General. The U.S. Surgeon Generals Healthy Apps Challenge was conducted in collaboration with the Office of the National Coordinator for Health IT.
Fit Friendzy, developed by MedHelp, the worlds largest online health community, in partnership with GE and its healthymagination initiative, allows users to choose from exercise challenges of varying difficulty, exciting users of all fitness levels and goals. Fit Friendzy tracks users exercises, minutes worked out, distance, speed, and total calories burned. A progress bar tracks how much of each challenge a user has completed and also allows them to see their friends progress, helping them to stay motivated.
In addition, Fit Friendzy seamlessly syncs with MedHelps My Diet Diary – Calorie Counter for iPhone and Diet Diary for Google Chrome, as well as MedHelps online exercise tracker, giving users the ability to sync all of their exercise and weight-loss data to MedHelps personal health platform. By using MedHelps iPhone and Chrome apps in conjunction with one of MedHelps online condition-specific trackers, users can compare their diet, nutrition and weight data to other health conditions they may be managing, such as diabetes, heart disease and high blood pressure.
MedHelp is honored and proud to have Fit Friendzy recognized by the U.S. Surgeon General, said John de Souza, president and CEO of MedHelp. Fit Friendzy is part of MedHelps personal health platform that helps members take control of their health and improve their overall wellbeing, so were thrilled that the app is included in Dr. Benjamins initiative to empower Americans to achieve better health.
In light of the U.S. Surgeon Generals initiative to encourage Americans to have fun while getting fit, we couldnt be more delighted that Fit Friendzy bears Dr. Benjamins seal of approval, says Linda Boff, executive director, global digital marketing, GE. Were pleased that our partnership with MedHelp could produce an app that Americans can enjoy while improving their health, which is what healthymagination is all about.
Submissions for the Healthy App Challenge were evaluated based on innovativeness, usability, ability to generate and download personal data, and whether they made the health-promoting activity fun. In addition, the applications had to be available for free download.
About MedHelp

As the worlds largest online health community, 12 million unique users turn to MedHelp each month to achieve better health. With communities providing support for more than 300 conditions, forums that connect users to doctors across the country, and partnerships with leading medical institutions including 7 of the 10 top U.S. hospitals, MedHelp provides unparalleled access to information and advice tailored to consumers personal health needs. MedHelp's suite of 50 online health tools, award-winning mobile apps, and seamless integration with numerous health devices create a robust destination for consumers to engage with and track their health. By closely connecting experts, support communities, and health tools, MedHelp empowers millions of people to be their healthiest each and every day. For more information, visit http://www.medhelp.org.
About GE
GE works on things that matter. The best people and the best technologies taking on the toughest challenges. Finding solutions in energy, health and home, transportation and finance. Building, powering, moving and curing the world. Not just imagining. Doing. GE works. For more information, visit the company's website at http://www.ge.com.
About GEs healthymagination Initiative

Launched in May 2009, GEs healthymagination initiative is focused on four critical needs: low-cost technology; healthcare IT; innovation accessible to all; and consumer-driven healthcare. GE has committed that by 2015 it will: