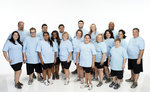 Croton On Hudson, NY (PRWEB) December 19, 2012
Camp Shane weight loss camp is proud to announce that our very own medical director, Dr. Joanna Dolgoff, will be joining NBC's "The Biggest Loser" team for the season starting with a two-night premiere event on Sunday, January 6 (9-11 p.m. ET) and Monday, January 7 (8-10 p.m. ET). This season,"The Biggest Loser" concentrates on childhood obesity, with 15 kid participants for the first time ever on the show, joining 15 fiercely determined adults eager to lose weight and change their lives forever.
Just as she does as Medical Director of Camp Shane, the longest running child and teen weight loss camp in the country, Dr. Dolgoff will use her expertise as a pediatrician, child obesity specialist and member of the Pediatric Task Force for the American Board of Obesity Medicine to help the featured kids get healthy.
At Camp Shane, Dr. Dolgoff meets with each camper, conducts a thorough physical exam to look for any medical causes of their weight gain, performs metabolism testing to calculate the maximum number of calories each child should eat to achieve a health weight and conducts pulmonary breath testing to determine the child's exercise capacity. She then creates an individualized food plan and helps campers track their weight and BMI, along with teaching the kids about healthy meal and snack creation, all the while showing the children that fitness camp can be fun. Her experiences at Camp Shane are sure to inform her work with "The Biggest Loser" kids.
"Overweight children must learn to make nutritious choices on their own, which will lead to effective weight loss and a lifetime of healthy eating," says Dolgoff, who is the author of "Red Light, Green Light, Eat Right", her book detailing the plan upon which the Camp Shane nutritional model is based. The plan not only helps the overweight children and teens, but also accommodates a full spectrum of eaters, so that families can help and support campers upon their return home from Camp Shane. According to Dolgoff, healthy family nutrition is the key.
"At Camp Shane, we not only provide plentiful and healthy food that the kids like to eat, but send them home with recipes that will help keep the weight off," says Dolgoff. "We also encourage kids to keep an online food journal and are always available for support, even after the campers have gone home — thinner, healthier, with lots of new friends and memories of a summer weight loss camp experience that they are sure to say was the most fun they ever had. I am hoping to help 'The Biggest Loser' kids in the same way."
About Camp Shane: Camp Shane, is the first-and-longest running co-ed weight loss camp in the country, With over 44 years of experience, Camp Shane has helped thousands of overweight children establish healthy diets and active lifestyles at its fitness camps in New York, Georgia, California and Arizona.
Camp Shane's adult program, Shane Diet & Fitness Resorts, is focused on helping guests achieve a long term healthy lifestyle. The weight loss resort program runs at two locations, year round at the Westin La Cantera Hill Country Resort in San Antonio, Texas and summers at Honor's Haven Resort & Spa in the Catskill Mountains of New York State. The program was recently recognized by SpaFinder as the Best for Weight in the 2012 SpaFinder Wellness Readers Choice Category.
For more information, visit http://www.campshane.com or call (914) 271-4141.