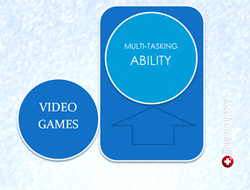 San Marcos, TX (PRWEB) January 23, 2014
The number of American seniors who regularly play video games is rising fast, and studies continue to point to the benefits of games in helping older people stay sharp, alert, and well-coordinated. Results of an informal survey by MedicareMall.com suggest that growing awareness among seniors of the positive effects of playing video games is a leading factor in the rapid rise in video games popularity among people over 65.
Nearly half of Americans aged 50 and older play video games. Many of these gamers are from the 65-and-over Medicare population.
In recent weeks, MedicareMall.com conducted an informal survey asking people 64 and over what they thought about video games. Although some respondents were drawn to entertainment-oriented games such as Angry Birds and slot games, the majority indicated a preference for strategy games, spelling games, word games, and puzzle games such as Candy Crush and Pet Rescue.
Key studies addressing effects of video games on older people suggest these people are engaging in an activity that can help keep them sharp and well-coordinated.
One recent study, published in the journal Nature, concludes that video games seem to help seniors improve physical interaction with their environment.
The University of California, San Francisco study involved the year-long development of NeuroRacer, a game designed specifically for the study.
NeuroRacer requires players to navigate a racecar on a winding track while hitting a button on a controller when a green circle appears. As a player improves, the level of challenge increases accordingly.
NeuroRacer was first tested on people aged from their 20s through their 70s, and showed a decline in multitasking ability with advanced years.
Next, 46 subjects aged 60-85 years spent 12 hours each over a month-long period playing a version of NeuroRacer. According to the study, these subjects attained better multitasking levels than 20-year-olds who did not train with NeuroRacer, and maintained superior levels for six months after the training period ended.
Other studies in the United States and abroad have suggested that video games can help older people maintain focus and achieve a variety of physical benefits. Games such as Nintendos Brain Age are a favorite among seniors drawn to puzzle-solving activities, memory tests, and exercises involving math and recognition. Nintendos Wii games, meanwhile, often provide the opportunity to enjoy physical benefits associated with certain familiar sports and games while minimizing the risk of injury associated with those activities.
People of Medicare age are well represented in the gaming community, and as video games continue to gain recognition for the mental and physical benefits they appear to offer older Americans, it may well be that such games will prove as essential as a healthy diet or Medicare supplement insurance to seniors who are determined to do all they can to maintain a high quality of life.
Sources

1. Entertainment Software Association: Gamers Over 50: You're Never Too Old to Play (2013)

2. Video game training enhances cognitive control in older adults – Nature Publishing Group

3. NeuroRacer Test at Gazzaley Lab

http://www.gazzaleylab.ucsf.edu/neuroracer.html

4. Scientists Use Videogames to Improve Older Brains – WSJ

http://blogs.wsj.com/digits/2013/09/04/scientists-use-videogames-to-improve-older-brains/