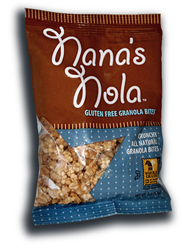 Oneonta, NY (PRWEB) July 18, 2014
Nana's Nola is thrilled to announce the launch of their new organic, gluten-free granola bites for the Celiac Community and those who embrace a gluten-free diet. Nana's Nola organic, gluten-free granola bites are made with Non-GMO ingredients that pack a powerhouse of healthy organic whole grains, all natural organic sweeteners and 4 grams of protein and 2 grams of fiber. Nana's Nola contains no soy, artificial additives or preservatives
Nana's Nola is the creation of Marie Lusins owner of the Flying Changes Bed & Breakfast in Oneonta, New York. After searching many different granola recipes, Marie created her own signature granola over 10 years ago and began serving it to her guests, family and friends to an overwhelming positive response to the granola. Today, based upon suggestions from guests and family, Marie began packing her granola for sale under the Nana's Nola brand name.
"Offering today's consumers a healthy snack option is essential to providing good nutrition as well as supporting healthier eating habits," said Marie Lusins, founder of Nana's Nola. "We care very deeply in helping both consumers and Celiacs who follow a gluten-free diet the ability to live a healthier lifestyle."
Nana's Nola organic, gluten-free bites are off to an impressive start and can be found in over 20 Mirabito Convenience Stores, gourmet and health food stores across New York State. Moreover, many of today's convenience stores are overflowing with unhealthy snacks and that's why Nana's Nola's granola bites come in affordable two ounce grab and go bags that can be easily enjoyed in the car, thrown into backpacks, lunch boxes or travel bags.
Furthermore, research shows that the demand for gluten-free products continues to expand and in order to meet the needs of the Celiac Community; Nana's Nola will be introducing two new flavors of organic, granola bites during the next 12 months.
"It has been thrilling to see the response and growth that Nana's Nola has achieved in such a short period of time. To see my Nana's Nola on retailer's shelves is really quite astonishing," stated Lusins.
About Us:
Nana's Nola™ is located in Oneonta, New York and produces a premium organic, gluten-free granola bites that is superior in taste and made with the highest quality ingredients. Nana's Nola is a "Healthy Snack" alternative to traditional snacks without sacrificing on taste. Nana's Nola provides both the Celiac Community and health conscious consumers with a healthier lifestyle choice. Nana's Nola's gluten-free granola bites is produced under strict Good Manufacturing Practices (GMP) in an isolated HEPA filtered "Clean Room" environment where extensive procedures are followed to make sure that no gluten is present in our finished products. Nana's Nola is available in 2 ounce grab & go bags for Convenience Stores, Drug Stores, Independent Supermarkets and Gourmet Food Stores. For more information about Nana's Nola, contact Marie Lusins, President at 1-888-224-2132 or e-mail her at nanasnola(at)gmail(dot)com.
More Recipes Diet Press Releases