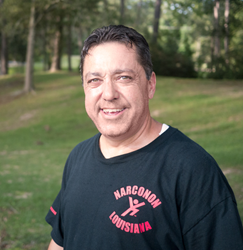 Denham Springs, LA (PRWEB) September 29, 2014
International Alliance for Fitness Professionals website states their mission is to provide students with a certification program that gives trainees the knowledge, skills and awareness necessary to enhance their own lives, and the lives of others. The International Alliance of Fitness Professionals also benefits the community at large, through innovative certification program designs, teaching, research, and service focused on the professional practice of fitness, wellness, nutrition, health, and physical education.
As a veteran staff member of Narconon Louisiana, Steve Mogavero is now able to offer a service to Narconon clients that can help them physically, while the Narconon New Life program provides guidance on their rehabilitation.
"Since I began working at Narconon Louisiana, I have always gotten a lot out of watching students change throughout their programs." Stephen states, "About two and a half years ago, I made a commitment to take better care of myself by eating healthier and physical conditioning. Through dieting and exercise, I gained a lot of self-esteem, energy, and a renewed confidence."
He adds, "I wanted to give that to the Narconon students so I went to school and received my certification and I am now able to train both staff and students. This is my way of giving back and sharing my experiences and knowledge on diet and exercise. I look forward to helping them improve physically, which will increase their esteem and confidence."
About Narconon Louisiana New Life Retreat
Narconon Louisiana was founded in 2006 following the devastation of Hurricane Katrina in an effort to help the thousands of residents affected by addiction who had no available treatment facilities. Located on approximately 15 wooded acres in Denham Springs, it is a non-profit alcohol and drug rehabilitation center licensed by the State of Louisiana. The Narconon drug rehabilitation and education program was founded in 1966 by William Benitez and uses the drug-free rehabilitation and social education methodology based on research developed by American author and humanitarian, L. Ron Hubbard. They are dedicated to eliminating alcohol and addiction through drug prevention education and rehabilitation. If you know someone struggling with alcohol addiction or drug abuse and would like more information visit http://www.drugabusesolution.com or call 877-340-3602. Any questions you have will be addressed in confidence.