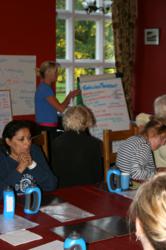 (PRWEB UK) 30 November 2012
FitFarms established itself in 2006 as the original weight loss camp programme for adults.
The company started off with getting the basic rights. The office was based at the bottom of a garden in Surrey near Hampton keeping the overheads low and piling as much money as possible into marketing and improving the weight loss and fitness experience for their guest.
In 2007 and 2008 the course stood alone but the main reason for this is that it was really the only company offering week long weight loss and fitness services that were residential. To see more information on the FitFarms course please click here.
In 2008 the UK military boot camp scene hit the UK in a big way. The companies were mainly directed by PR girls which helped the boot camp companies expose themselves to the general public.
FitFarms owned by a former squash professional and personal trainer had a much more different edge. The fitness retreat sessions were very detailed and the company was client focused and because it was being directed by health professionals the quality of course was high.
In 2012 FitFarms has moved their game forward again. The new team of Zuzana Kubisova a personal trainer come dance expert who studied at the European School of fitness backed up by Andrew Baker a former rugby league player with a holistic approach and finally Ian Thompson who has trained athletes to world championship standard has seen a huge improvement in weight loss and body fat loss.
The new improved programme has also helped with returning guest. Previously the month of November was quiet at FitFarms but this was not the case in 2012. Both the weight loss and fitness programmes on Exmoor in Somerset and the Peak District in Derbyshire were completely full in October.
Next year is also looking very similar as well as the company is almost fully booked on the course starting in February at the Exmoor weight loss and fitness camp.
Stephen Cole the Director explains that the team always meet up in December for an improvement meeting in Derby so guest can expect even more improvement along the way.
There will be a new site opening in Dorset which will give guest another location option and the walks in this area of outstanding beauty are stunning.
Guest are advised to book quick though as the fast improving programme is only going to attract more interest in the UK and beyond.