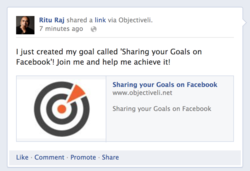 San Francisco, CA (PRWEB) October 31, 2012
The Biggest Loser attracted 7.2 million viewers for its last season finale, many of whom found the show inspiring to their own weight loss goals. In 2009, more than 63 percent of Americans were overweight or obese, and many are aware of the increasing risks to a lifestyle with fast food, large portions and little exercise. Fitness apps are on the rise, and although many find these technologies to be useful, the Objectiveli app sets the foundation for weight loss success through setting goal and objective.
Objectiveli is platform that allows users to set goals and objectives and share them with stakeholders, who can encourage and inspire as goals are met. Unlike other fitness and food apps, Objectiveli sets the foundation to a healthier lifestyle through identifying the very things that need to happen along the path of success.
Kelly Wallace, a health teacher and volleyball coach in Sterling, Kentucky, said the very first unit she teaches is about setting proper wellness goals. She said goals should be S.M.A.R.T. and students need to identify how they will achieve the goal, who will help them, and what barriers might keep them from reaching it.
I ask them why they are working on this goal, whats in it for them, Wallace said. I feel that setting and achieving goals is the only way to get healthy.
Wallace also emphasized the importance that others play while reaching fitness goals. Each student signs his or her goal and and then has a sponsor sign it as well, promising support through the process.
Cheryl Forberg, a nutritionist on The Biggest Loser, said the support of family, friends, and other peers is essential for the shows contestants to continue to drop weight and keep it off. She said that many of them have Facebook groups and some even share their stories through motivational speeches.
Objectiveli users will now find it even easier to gain support of their fitness and weight loss goals because it is now integrated with Facebook. Users can publish goals to their Facebook walls and ask for sponsors through their Facebook pages or on Objectivelis site.
Ritu Raj, founder of Objectiveli, said the new feature is exciting to both new and existing members.
People are much more successful in reaching their goals when they involve their friends, Raj said. It is important to have cheerleaders, those who can encourage you to keep going even when things are hard.
Objectiveli is an online application that allows individuals to easily manage goals and objectives. Objectiveli was founded in 2012 by Ritu Raj. Raj is also the founder of OrchestratorMail, an email-based platform for coordination, Avasta, a cloud computing company, and Wag Hotels, the largest chain of dog hotels. Additional information can be found on Objectivelis website: http:// http://www.objectiveli.com.
Related Exercise Press Releases