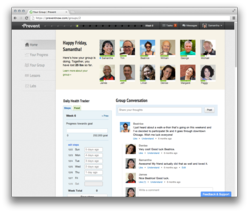 San Francisco, CA (PRWEB) December 11, 2012
Omada Health, a pioneer in the field of digital health, today launched Prevent, the first-ever online diabetes prevention program for the general public. This launch comes at a critical time, as U.S. diabetes rates are skyrocketing and the CDC is spending enormous resources to curb this national epidemic by rolling out diabetes prevention programs in community centers across the country. One in three American adults have prediabetes (the clinical precursor to type 2 diabetes), and the majority will develop prediabetes or diabetes by 2020. However, a landmark NIH-sponsored study called the Diabetes Prevention Program (DPP) showed that a comprehensive behavioral weight loss program can help people prevent diabetes, and do so even more effectively than medication.
Complementing the CDCs on-the-ground diabetes prevention efforts is Omada Health, a Silicon Valley startup conceived at design and innovation firm, IDEO, and incubated at startup accelerator, Rock Health. The Omada team is an interdisciplinary group of technologists, entrepreneurs and clinicians from Google, Amazon, IDEO, Harvard, Stanford and Columbia who are passionate about creating accessible technology to prevent disease. Their flagship product, Prevent, is a groundbreaking online version of the DPP for the general public.
The Diabetes Prevention Program clinical trial of 2002 was extremely successful in showing that diabetes can, in fact, be prevented, said Omada Health CEO Sean Duffy. If that trial had been a pill, it probably would have become a billion-dollar drug and the gold standard in care. But the DPP was a behavior change program challenging and expensive to roll out. We created the Prevent program to ensure that diabetes prevention is available online to as many people as possible.
Prevent is a 16-week online program that uses an interactive web-based curriculum, personalized coaching, social support, and digital tracking tools to motivate healthy behaviors. Participants are first mailed a welcome kit containing Prevents mobile-connected wireless scale that automatically tracks their progress with no setup needed. They are then matched up with a professional health coach and a small group of peers for social support and reinforcement. Participants are guided through 16 lessons, based on the DPP clinical trial curriculum, that promote healthy eating and activity habits. Participants are also mailed helpful packages during the program to complement the curriculum and keep them motivated.
Omada Healths recent 230-person pilot study of Prevent resulted in an average weight loss of 13.7 pounds (6.4 percent) after 16 weeks, which research indicates can reduce the risk of developing diabetes. Participant feedback has also been extremely positive. Prevent helped save my life, said Terry Levin, 53. The programs lessons, interaction with my group, and of course my great health coach, gave me the tools to get back on the path to a healthy lifestyle. I have lost 25 percent of my body weight, my blood tests are fantastic, and most importantly, I feel great.
By making a scientifically-supported program available online, Omada Health is making healthy lifestyle change accessible for those who couldnt otherwise participate due to time or logistical constraints. In addition to making Prevent directly available to consumers, Omada Health is currently beginning pilots and negotiating partnerships with third-party payers (i.e. self-funded employers, integrated health systems and private insurers) who would cover the cost of the program for participants and see a return on investment in avoided health costs.
Hundreds of Billions in Potential Health Care Cost Savings
According to a UnitedHealth report, diabetes is a major contributor to exorbitant costs of U.S. health care. Their analysis suggests that health spending for prediabetes and diabetes has reached approximately $ 200 billion this year and will grow to $ 500 billion by 2020, a staggering 10 percent of total health care spending. However, an Urban Institute report indicates that the U.S. could save up to $ 191 billion over the next decade if DPP programs like Omada Healths Prevent were widely used, with the majority of savings going to Medicare and Medicaid programs.
"The type of lifestyle interventions that have been shown to delay or prevent diabetes are hard to 'prescribe,' and so many primary care doctors don't treat or recognize prediabetes, said Dr. Anne Peters, director of the USC Clinical Diabetes Program. Evidence-based programs like Prevent can help equip doctors with the tools they need to combat the soaring diabetes epidemic in our country.
Efforts like Prevent are also finding key political support. President Obamas Affordable Care Act laid the groundwork for a national diabetes prevention coalition. Notably, a bill was recently introduced to the Senate to have DPP programs covered by Medicare, which would allow Prevent to further help millions of Americans in need.
About Omada Health

Omada Health is a Silicon Valley startup that is bringing the best in design and web technology to health care delivery. Omada Healths flagship product Prevent, the first-ever online diabetes prevention program for the general public, is based on the landmark Diabetes Prevention Program (DPP) clinical trial. For more information, visit http://www.omadahealth.com and http://preventnow.com.