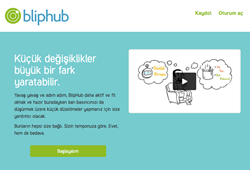 Eugene, OR (PRWEB) March 12, 2015
ORCAS (http://www.orcasinc.com), a mobile health research and development company, today announces that it will begin to "localize" its portfolio of mobile self-management interventions for use in countries around the world. Localization, or internationalization, refers to the ability to adapt software to many different languages, including those with different character sets and writing directions, the use of local calendars, and number formats. Working with global distribution partner mHealth Technologies, ORCAS recently localized BlipHub, a mobile intervention for hypertension, to the Turkish market, using Turkish text and videos. The Turkish version of BlipHub will be the basis of a broader platform that prompts condition-specific mobile interventions for the prevention and management of high prevalence chronic conditions (such as hypertension, diabetes, obesity, and stress and depression) that compound health care problems and costs.
"Internationalizing our software has been a key component of providing accessibility of ORCAS's self-management interventions around the world," said Michael Mulvihill, CEO of ORCAS. "Having the infrastructure in place to easily add new languages allows our global distribution partners to bring our products into overseas markets hungry for innovative health technology."
ORCAS's entire portfolio of health and wellness apps — from its habit-forming engine (HFE) to MoodHacker, an app that identifies and improves moods — is based on the premise that user-driven behavior change is the most efficacious way of improving mental and physical well-being. Localizing mobile interventions and accounting for cultural differences and norms, lowers barriers to utilization for users from all over the world, and puts them on a self-directed path for systematic and lasting behavior change.
Turkey is an ideal market for a self-guided health and wellness platform tailored to its user population, given the widespread use of smart phones and social media. The localized version of BlipHub will be expanded into an integrated platform enabling users in Turkey to pick a condition they want to address, and then be taken through holistic intervention pathways. For instance, if a user is suffering from hypertension, a pathway can also address related conditions, such as depression and/or obesity.
"Our business is based on finding best-in-class technologies that can be adapted to emerging markets," said John Cannon, mHealth's CEO. "We have taken the ORCAS content, text and video, translated it into Turkish and reviewed that content for cultural appropriateness. We believe we have an excellent product for the Turkish people."
ORCAS and mHealth Technologies will begin a staged roll-out of the platform by conducting tests of a Turkish version of BlipHub, focusing on usability (correct translations from English to Turkish, etc.), while insuring that the infrastructure is in place (and data is secure) and that the clinical protocols are correct.
About ORCAS
ORCAS is a mobile health research and development company that applies extensive behavioral research to mobile self management interventions that help people manage their health and change their behavior in meaningful ways. The executive management team has extensive experience in the behavioral healthcare industry and ORCAS behavioral scientists have over 20 years of research experience running full clinical trials on web and mobile behavior change interventions.
With the rise of mobile technology and the Health 2.0 movement, ORCAS is poised to provide engaging solutions that create lasting improvements in health and wellness while reducing costs to healthcare organizations, employers, and consumers. For more, visit http://www.orcasinc.com.
About mHealth Technologies
mHealth Technologies licenses software technology from best of class developers in the United States and Europe in the health and wellness space and coverts that software to culturally appropriate products for emerging markets initially focusing on Turkey. The products provide guidance and support to change behaviors in the areas of medication adherence, smoking cessation, weight loss, chronic disease management and depression and stress management. For more information, visit http://mhealth.com.tr.
Related Weight Loss Press Releases