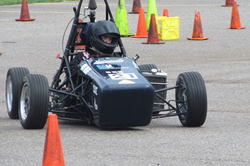 Auburn Hills, MI (PRWEB) May 05, 2015
Patti Engineering, Inc., a leader in control system integration, today announced it is sponsoring a team from Hope College in the Michigan Formula SAE Series. The race will take place at Michigan International Speedway in Brooklyn, MI from May 13-16, 2015. A total of 120 teams will compete in the sold out event series across the United States

.

"This is a high profile competition for colleges across the nation. The race sold out in ten minutes!" said Sam Hoff, President, Patti Engineering. "The majority of entrants are teams from the big technical colleges in America. There are only a handful liberal arts college participating. We have selected Hope College to sponsor because we admire their reason for entering the race – they strongly believe that it is a complement to their liberal arts engineering education because the competition is not solely technical."
The Hope College team seeks to win based on what they call a 360⁰ approach to learning. As part of the competition is judged on project management and business management, the students will exercise many of their talents and areas of knowledge and expertise to manage their car from start to finish. They are currently designing and building their formula SAE car, while simultaneously raising money to participate. The business plan they set in place seeks to profitably sell 1,000 units of these cars. The first year Hope College participated in the race was 2010, and they won the "Rookie of the Year" award.
"I don't want to know where my engineering career would be without the Formula SAE team at Hope College. Both my education and my career prospects have been drastically impacted by my involvement with the team," said Daniel Karlovich, Hope College Team Captain. "All of the design and problem solving skills I learn in class have been put to the test when applying them to real problems that arise while designing and building a car. I also received my first internship through connections I gained through a team event, and two years later I have been able to continue this opportunity with a full-time job after I graduate in May. I cannot overstate that my education would not be complete without the engineering, leadership, and business skills I have learned through my participation. It has been both the most enjoyable part of my college experience and the most beneficial to my education."
Patti Engineering is happy to support these young bright individuals with a financial donation, as well as an in kind laptop donation to assist with the business plan development, execution and more. For more information on the Hope College team, visit: http://www.hope.edu/student/life/fsae/.
About Patti Engineering, Inc.

Patti Engineering, Inc. is a CSIA Certified control systems integration company offering high-caliber engineering and software development services. Patti Engineering's technical expertise in electrical control and information systems provides turnkey control systems integration for design/build, upgrade/retrofit and asset/energy management projects. Industrial automation, production intelligence and shop floor IT solutions services include: project management, electrical engineering, hardware design, hardware procurement, software development, installation, calibration, start-up testing, verification, documentation, training and warranty support. Customer satisfaction and project success earned the company placement in the Control Engineering Magazine's Hall of Fame. For more information, visit http://www.pattieng.com.
Find More Exercise Press Releases