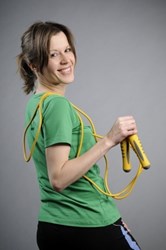 Austin, TX (PRWEB) January 31, 2014
Dr. Katalenas, a pediatrician in Austin, Texas, challenges patients to exercise for just 10 minutes in the morning as part of her 2014 Monthly New Years Resolution challenge. Dr. Katalenas recommends making healthy lifestyle changes in small doses, each month, in order to create a habit that will fit into your lifestyle.
Parents must realize that a small change is better than no change at all and come up with creative solutions to meet their childrens need for healthy meals and exercise. The good news is that children respond much better than adults to lifestyle changes, says Dr. Katalenas.
Cedric X. Bryant, PhD, chief exercise physiologist of the American Council on Exercise agrees, The key is getting exercise whenever you can-whether its morning, afternoon, or evening. The goal is to move your body as much as possible.
But by starting your morning with physical activity, you set the day's pace, Bryant says. "Morning exercisers tend to stick with their exercise habit," he says. "By doing the bulk of exercise first thing in the morning, you get your exercise in before other distractions can intrude. We can all relate to that — because once the day gets going, it's hard to get off the treadmill called life."
Research suggests that morning exercise improves sleep, a benefit that could also promote weight loss. One study of overweight women between the ages of 50 to 75 showed that those who engaged in consistent morning exercise (about four hours a week) slept better than those who exercised less. The evening exercisers had more trouble falling asleep – even if they fit in the four hours a week.
Dr. Katalenas has created a list of monthly resolutions that the whole family can adopt on her website at http://www.DrKatalenas.com and she includes a printable flyer for download that she encourages parents to post on their refrigerator, helping families keep on track in the new year.
About Dr. Katalenas

Dr. Marta Katalenas is a board certified pediatrician and owner of the Pediatric Center of Round Rock. She is a public speaker and author of the book "The Step Up Diet: From Scratch The Quality, Quantity, and Timing Solution to Childhood Obesity," a guide to healthy cooking and eating for busy families.
Related Fitness Exercise Press Releases