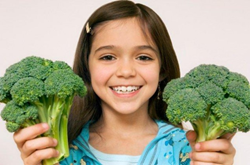 Austin, TX (PRWEB) December 03, 2014
As part of a 12-month resolution challenge designed to help families eat nutritious foods and become physically active, Dr. Marta Katalenas, an Austin, TX pediatrician, recommends selecting one day of the week as Vegetarian Day, beginning this month. By eating grains, beans, vegetables and fruits for an entire day, families will be creating healthy eating habits while improving their long-term health.
In a recent article, Dr. Katalenas promotes her December Resolution challenge by listing 5 health benefits associated with meals rich with vegetable and fruit-based nutrients. These benefits include a decreased chance of developing chronic disease, and an increase in energy levels. According to the Center for Disease Control, "Healthy diets rich in fruits and vegetables may reduce the risk of cancer and other chronic diseases." It's also been reported that "dietary fiber from vegetables helps reduce blood cholesterol levels and may lower risk of heart disease."
While the prevention of disease may not be seen immediately, there are a few quantifiable results for families that plan one day of the week as a Vegetarian Day. This is includes improved dental health. According to the pediatrician, "Vegetables like celery and carrots act as natural teeth cleaners that also stimulate the gums, and can lead to better dental health over time." Weight management is another health benefit family members will find noticeable in a short amount of time. "In order to help your child maintain a healthy weight," Dr. Katalenas explained, "a Vegetarian Day will help you substitute over-processed and sugary foods with healthier, natural foods that are low in calories, yet satisfying."
The overall convenience of non-processed vegetables and fruits for families on-the-go is also addressed by Dr. Katalenas. "The easiest foods for your child to reach for are fruits and vegetables," she said, "so make Vegetarian Day convenient for your child by packing a snack-sized container of apple slices and peanut butter in a lunch bag instead of a processed snack food."
Exercise and healthy living advice from Dr. Katalenas can be found in her book "The Step Up Diet: Quality, Quantity, and Timing". Case studies detailed in the book describe how physical activity and nutritious meals improved the health of children that were once unhealthy and unwilling to exercise.
Families can adopt monthly resolutions created by Dr. Katalenas on her website that will help them make easy changes to become healthier and stay on track throughout the year.
About Dr. Katalenas

Dr. Marta Katalenas is a board certified pediatrician and owner of the Pediatric Center of Round Rock. She is a public speaker and author of the book "The Step Up Diet: From Scratch… The Quality, Quantity, and Timing Solution to Childhood Obesity," a guide to healthy cooking and eating for busy families.
Find More Diet Press Releases