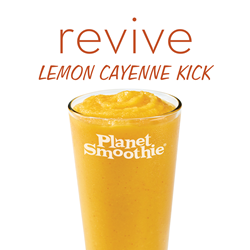 Atlanta, GA (PRWEB) February 17, 2015
By February, many Americans have already dumped their diets and failed at the #1 New Year's resolution to get healthy. Planet Smoothie serves up a solution with a new line of Revive, Recharge, Rebuild smoothies. The three new smoothies feature cayenne pepper, cucumber and lemon juice – trending ingredients making a splash in 2015 as must-have additions to healthy diets. The Revive, Recharge, Rebuild line is the company's latest weapon in the Smoothie Wars – a surging $ 2 billion-a-year business.*
"On average we gain one pound over the holidays, which may not sound like a lot, but it can sit on our waistlines for months and years unless we aggressively change our eating habits," says Donna Smith, VP of Marketing at Planet Smoothie, one of the nation's longest standing smoothie chains. "Our smoothies with these exciting ingredients are a refreshing, healthy meal replacement for people on-the-go who want to detox and recharge for the New Year."
New Revive, Recharge, Rebuild Smoothie Line:

Drink to Cleanse!
Revive with Lemon Cayenne Kick: similar to a master cleanse and a reboot to the system! (contains cayenne pepper, lemon juice, coconut water and mango)
Health benefits:

Cayenne pepper supports weight loss, aids in digestion, provides cleansing support and is an anti-cold and anti-flu agent. A ½ teaspoon helps boost metabolism, suppress appetite and burn calories. Cayenne pepper's menu presence has grown by 37 percent since 2010 (Datassential).
Lemon juice supports weight loss and liver function, aids in digestion, boosts the immune system, destroys toxins, purifies the blood and can help combat cancer (source: Medical News Today).
Coconut water boosts hydration (even more than energy drinks!), suppresses appetite and aids in weight loss (because people feel fuller, longer), and can reduce blood pressure. Coconut water has more than doubled on menus since 2010 and has grown more than 100 percent on non-alcoholic beverage menus over the past four years (Datassential).
Recharge with Cucumber Cooler: a balancing and hydrating smoothie loaded with fruits and vegetables! (contains cucumber, lemon juice, honey and blueberries)
Health benefits:

Cucumbers are known as a "super food!" They are 95 percent water and high in fiber. They help hydrate the body, aid in weight loss because people feel fuller, longer AND may decrease the risk of cancer (source: Medical News Today). Cucumbers have seen growth of more than 100 percent on non-alcoholic beverage menus over the past four years (Datassential).
Rebuild with Berry Builder: when the body comes into balance, this smoothie helps rebuild with a protein packed punch! (contains blueberries, strawberries, mango and protein powder)
"The New Year is about changing bad health habits, but when we diet, we often feel like we're depriving ourselves," Smith says. "These smoothies are a delicious treat that jump start our metabolism while at the same time satisfy the craving for something sweet – yet healthy!"
###
Sources:

*Smoothie Statistics Report 2012 Edition
About Planet Smoothie:

Planet Smoothie, intent on redefining the smoothie category, was founded in 1995 and is among the country's top smoothie concepts. The brand appeals to a demographic of loyal, active and occasion-driven customers who want to live a healthier lifestyle. Planet Smoothie offers real fruit smoothies with lower calorie, lower sugar, and higher protein options, providing customers with a quick, portable snack or meal replacement. Planet Smoothie's menu is organized into lifestyle categories to assist customers in finding the smoothie that helps them to achieve their personal goals, including protein, energy, and Lite categories. In 2011, Planet Smoothie was acquired by Tasti D-Lite LLC, the lower calorie frozen dessert chain. The acquisition allows both brands to broaden product offerings, improve retail sales and accelerate unit growth through cobranding initiatives. Planet Smoothie currently operates 110 locations in 18 states. For more information, please visit http://www.planetsmoothie.com.
Find More Weight Loss Press Releases