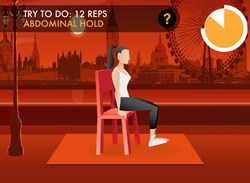 New York, NY (PRWEB) December 11, 2013
Power 20 proudly announces that two of its Android apps, Power 20 Fitness Trainer Pro and Power 20 Amazing Abs Pro, join 16 other health and medical apps to be the among the first of apps in the country to pass the rigorous standards established as part of the Happtique Health App Certification Program (HACP). In order to receive certification, each app must pass both technical testingthe verification of privacy, security, and operability by global testing leader Intertekand content testing as evaluated by relevant clinical experts.
Power 20 applications guide users through 20-minute, full-body workouts they can do at home without any equipment. Fitness Trainer Pro is a full body workout, while Amazing Abs focuses on the back and core muscles. The apps are available on iOS and Android, but the Android apps are the first to pass the certification program.
We are thrilled to be part of the Happtique program, said Arshad Chowdhury, Founder of Power 20. Our apps help people stay fit, improve balance, and control their blood sugar. We have put lots of resources and research into these products, so it's validating that doctors can recommend Power 20 apps to patients with confidence.
Power 20s certification status is groundbreaking in the mobile health world, which remains the one area of healthcare that is largely unregulated and untested. With more than 40,000 apps in the marketplace, clinicians and consumers have difficulty determining which apps are trustworthy. Participating in the certification process demonstrates a developers commitment to improving mHealth for providers and patients.