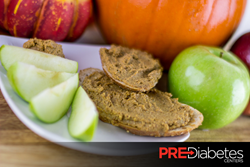 Austin, Texas (PRWEB) October 09, 2014
PreDiabetes Centers, the nation's top provider of prediabetes treatment, released its latest healthy, scrumptious recipe today for Pumpkin Maple Pecan Butter. Concierge Chef Han Ashley created this delicious, mouth-filling, feel-good recipe for PreDiabetes Centers clients and online users to enjoy during the festive fall season.
"This easy, no-cook Pumpkin Maple Pecan Butter can be whipped up in just a few minutes and served at a work or family gathering at any time of day," said Ashley. She says the inspiration for the sweet spread came from the all-popular Trader Joe's Cookie Butter–a delicious spread that is high in sugar and has little nutrient value.
Pumpkin Maple Pecan Butter, on the other hand, is a nutritious, spectacularly flavorful spread that can satisfy cravings for pumpkin treats. It's nutritious too: The pumpkin is high in fiber and packed with an important antioxidant called beta-carotene, which converts in the body to a form of vitamin A–a vitamin that's critical to overall health and immune system function, as well as skin health.
"It tastes more decadent and richer than traditional pumpkin butter because it's loaded with nuts, oils and proteins. The Pumpkin Maple Pecan Butter is like a delicious nut butter with pumpkin," said Ashley.
Traditional pumpkin butter usually features dollops of sugar, but Pumpkin Maple Pecan Butter uses just a few teaspoons of maple syrup and vanilla extract to sweeten the tasty spread. Dates also lend this dish extra texture and added health benefits, as the fruit may aid in blood sugar control, according to some studies.
The pecans in the Pumpkin Maple Pecan Butter can help lower cholesterol, while the coconut oil contains healthy fats that aid in hormone production.
Chef Ashley notes that the spread is versatile and can be paired with crunchy foods, like celery, or soft foods, such as pita bread. She recommends eating the Pumpkin Maple Pecan Butter with sliced apples, over whole grain toast or whole grain pancakes, or swirled into breakfast oatmeal.
A nutritious, balanced diet lies at the heart of diabetes prevention. But a healthy diet alone may not be enough to prevent the development of diabetes. Sometimes there are underlying disorders that can contribute to the onset of diabetes.
PreDiabetes Centers specializes in diagnosing and treating prediabetes, which is the earliest stage of type 2 diabetes. To stop the onset of diabetes, PreDiabetes Centers health teams use cutting-edge biomarker blood tests, health coaching, nutritional supplements, personalized fitness, and an advanced dietary plan. Teaching prediabetics how to eat unprocessed, whole foods and cook nutrient-rich meals is a key part of an overall prediabetes treatment plan.
Those who feel they may be at risk for prediabetes can book a free blood screening by calling 1-855-399-7733 (PRED). For greater convenience, people also have the option of scheduling online.
Find More Diet Plan Press Releases