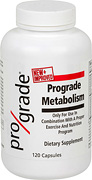 Clearwater, FL (PRWEB) June 11, 2012
Suppliers of a new fat burning supplement, Prograde Metabolism with Rasberry Ketone, are celebrating as the results of the product's clinical trials are released to the public this week. Prograde Metabolism, tested in accordance with international guidelines, has shown definitive results, with subjects becoming leaner, more toned, and burning calories more efficiently.
The tests were conducted by Doctors Hector Lopez, M.D., CSCS, FAAPMR, and Tim Ziegenfuss, Ph.D., FISSN, at the Center for Applied Health Sciences. (CAHS), a multi-disciplinary research center that focuses on the impact of dietary supplements, medical foods and pharmaceuticals on health and human performance. Testing showed that the benefits came without any significant side effects.
Based on the results of this highly-controlled clinical trial, we have a great degree of confidence that Prograde Metabolism can help consumers amplify the amount of body fat and inches they lose from their diet and exercise routine, said Lopez.
Jayson Hunter RD, CSCS, head of Research and Development at Prograde Nutrition said Prograde Metabolism is the result of years of hard work. We have gone to great lengths seeking out and testing the best ingredients, and taking our time to get it right. The result is a product that works.
Prograde Metabolism is designed to enhance the effects of regular exercise and a good diet, and is the latest in a line of successful products from Prograde Nutrition. The results of the Prograde Metabolism study will be presented at the International Society of Sports Nutrition (ISSN) annual conference June 22-23, 2012 in Clearwater, Florida.
About Prograde Nutrition:
Prograde Nutrition develops and sells nutritional supplements tailored to work with an active lifestyle. The company has built a strong reputation for scientifically sound, proven products, in part because they refuse to license their products through anyone other than medical and fitness professionals. Prograde believes in educating consumers about the value of whole foods, nutrition and exercise. Prograde can be reached online at GetPrograde.com.