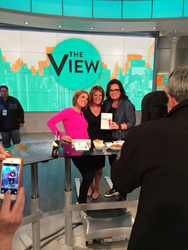 Washington, DC (PRWEB) October 08, 2014
October 7th, 2014: Rebel Desk, makers of adjustable-height desks and treadmill desks, recently had morning news anchors picking up the pace when author and entrepreneur Tory Johnson stopped in to promote her new book, "The Shift: How I Lost Weight and Discovered a Happier Life." Johnson, also the Good Morning America "Good Deals" contributor, attributes her use of the Rebel Desk to helping maintain her 60+ pounds weight loss.
"Eat less and move more," is the advice Johnson gives The View co-hosts Rosie O'Donnell and Nicole Wallace during a recent interview. The interview featured the trio walking up a sweat at Rebel Desks and Rebel Treadmills during the segment while dishing about Johnson's weight-loss principles and tips. One of Johnson's tips was to "move more" and she attributes that standing and walking while working "has been the best daily investment in [her] health and happiness," as she logs between 3 to 6 miles per day – at her desk!
Over 70% of Americans work sedentary jobs, leading to what doctors have coined as "sitting disease." Illness stemming from living a sedentary lifestyle, including obesity, chronic disease and low back pain, costs the United States over $ 177 billion per year. Studies have shown that working from a treadmill desk helps improve these health conditions and results in increased productivity.
To learn more about Rebel Desk and the health benefits associated with using a treadmill desk, visit http://www.rebeldesk.com. To learn more about Tory Johnson and her new book "The Shift," visit http://www.shiftwithtory.com.
ABOUT REBEL DESK: Co-founders Kathleen Hale and Jeff Hale are leading the Rebel Desk revolution. Before founding Rebel Desk, they were treadmill desk users who experienced the incredible benefits of walking and standing while working. They also saw how feeling good while they worked created a positive cycle for other healthy behaviors. When you feel healthy and energized at your desk, it is easier to turn down the snack from the vending machine for something nutritious; it's easier to add a walking meeting into your day rather than be trapped in a conference room; and it's easier to make the most of time spent not working. Kathleen and Jeff also wanted people to be able to have it all – so they created a treadmill desk with quality, style, and functionality found nowhere else. They are committed to fulfilling Rebel Desk's mission and transforming the way people feel while they work. http://www.rebeldesk.com