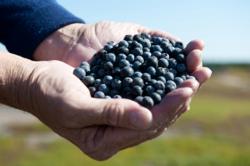 Portland, ME (PRWEB) September 13, 2012
Leading researchers from the United States, Europe and Canada gathered recently in Bar Harbor, Maine, to collaborate and share their latest findings on the potential health benefits of Wild Blueberries.
2012 marks the fifteenth year that members of The Bar Harbor Group have convened the Wild Blueberry Health Research Summit. Focused on emerging blueberry health research, the summit brings together experts in a wide number of fields, including brain health, cardiovascular disease, cancer prevention, diabetes, vision health and metabolic syndrome.
Over the past 15 years, the scope of Wild Blueberry health research has broadened dramatically, said David Bell, executive director of the Wild Blueberry Commission of Maine. This year alone, well over 100 new studies, in a wide range of areas, will be published on the blueberrys potential benefits to human health.
There has also been an increase in the number of human clinical trials being discussed at the summit. Fifteen years ago, much of the research was conducted in vitro or using laboratory animals, noted Susan Davis, MS, RD, nutrition advisor for the Wild Blueberry Association of North America. Today we are seeing very exciting results from researchers who are looking at the impacts of adding Wild Blueberries to the human diet.
Among the studies discussed at this years summit are several focused on brain function, vision health and metabolic syndrome, a cluster of risk factors associated with diabetes and heart disease.
Highlights of these studies include:
Slowing Cognitive Decline and Improving Memory and Motor Function in the Elderly
o