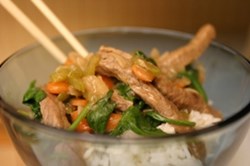 Grand Junction, CO (PRWEB) January 03, 2013
Dinner time can be a daunting task for a busy people. After a hard days work it is easy to pull up to a drive-thru window or call for pizza delivery. Over time, however, these fast food dinners take a toll on wallets and waistlines. To lose weight, spend less, and bring the family closer together in 2013, resolve to cook at home more often.
Supper Weekly founder and publisher, Heidi Swain, says that with a little planning, cooking at home can be easy. "Once a week, choose five or six recipes that have similar ingredients and compile a grocery list." Heidi says. "If you are making classic chicken and rice, choose a stir fry recipe that also calls for chicken and rice so nothing goes to waste." No time to meal plan? Supper Weekly is pleased to announce that there are now 30 weekly meal planners ready to go at http://www.supperweekly.com.
Each meal plan has five easy dinner recipe and a complete grocery list. "Just print the meal plans, or pull them up on your smart phone at the grocery store." Heidi says.
Supper Weekly is the brainchild of professional meal planner, Heidi Swain. Our goal at Supper Weekly is to bring families back to the dinner table. For over ten years, Heidi has been compiling, testing, and writing about family friendly recipes. What makes her meal planners truly unique is the grocery list that you can print, or pull up on your smart phone at the grocery store. Each Supper Weekly grocery list has the Quick List Recipe Key that helps users quickly decipher which ingredient goes with which recipe.