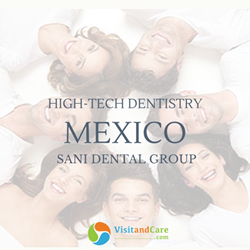 Phoenix, AZ (PRWEB) April 07, 2015
Sani Dental Group is the most prestigious dental clinic in Mexico. Acclaimed for affordability, expertise, and trustworthiness, the VisitandCare.com partnered dental provider is providing new high-tech dentistry options.
To meet the high demand for dental care at Sani Dental Group, the clinic has added a state-of-the-art laboratory to create their own dental crowns — porcelain, gold, E-max and CAD/CAM Zirconium Crowns. With three convenient locations in Los Algodones, patients are taking advantage of the affordable costs, personalized vacation planning, on-site dental lab, fast turn-around, and guaranteed quality on all dental treatments.
There is no single factoring reason for the increase in patients to travel to Mexico for dental treatment — but rather an impressive profusion of benefits. Offering insight on the benefits, Sani Dental Group Marketing Director, Alejandro Gutierrez stated, "It's difficult to name just one benefit because of how complete our program is. It's the complete offer. Not only will you find more doctors than any other dental clinic in the region, but you will have support from the moment you are setting up your appointment with a patient coordinator. We offer airport shuttle, lodging options, and a world-class on-site dental laboratory. With Sani Dental Group you have everything you could need."
High-Tech Dentistry in Mexico —
Beyond its newest facilities offering modern appeal and luxury, Sani Dental Group has seen a significant increase in patients due to their high-tech dentistry procedures — All-on-4® dental by Nobel Biocare and Prettau Prosthesis by Ziconzahn. As a trusted name in oral healthcare, the dental specialists at Sani Dental Group have performed more dental implant surgeries using Nobel Biocare than any other dental center in Mexico.
The All-on-4® dental treatment provides full mouth reconstruction with nearly 70 percent cost savings compared to U.S. costs. The All-on-4® concept was developed to provide edentulous patients with an efficient and effective restoration using only four implants to support an immediately loaded full-arch prosthesis. This modern solution offers patients various benefits, including stability even with minimum bone volume, outstanding clinical results, prosthetic flexibility, and increased efficiency.
Sani Dental Group is also one of the few clinics in Mexico that employs pioneering CAD-CAM Technology. Dental surgeons use the most superlative equipment on the market — KaVo Everest. The state-of-the-art equipment allows Sani Dental Group cosmetic dentists to work faster and provide more quality laboratory work than any other clinic in Los Algodones. The KaVo Everest CAD/CAM is an outstanding example of holistic design in dental laboratory technology.
Why Choose Sani Dental Group —
As a proud member of the ADA (American Dental Association), the VisitandCare.com top dental care provider is the best option for dental treatment in Mexico. Sani Dental Group comprises of more than 30 doctors with different specialties, serving patients mainly from the USA and Canada.
What does the clinic offer?


    The only dental clinic in the region awarded the prestigious 'International Patient Services Certification' by the MTA.
    Member of the ADA (American Dental Association).
    Two-year full warranty on dental work.
    Two-year warranty on implants and crowns (regardless of the cause of replacement).
    On-site high-tech laboratory.
    Computer Aided Design and Computer Aided Manufacturing technology.
    Dental Laser Technology.
    CT-Scan and Digital Panoramic X-rays on site.
    Agreement with "Hacienda Los Algodones" hotel to provide rates as low as $ 35/night.
    Free shuttle service between the border, hotel, and clinic.
Dental tourism in Mexico has become the new way for North American citizens to take care of dental needs. The dental clinic is currently offering several promotions, including one free night at Hacienda Los Algodones hotel with treatment over $ 1,000 USD. Moving ahead in 2015, executives at the cosmetic dental clinic are working diligently towards the launch of a new project — MediPlaza — that will include several amenities for current patients.
About VisitandCare.com

VisitandCare.com was created to give individuals worldwide valued direction locating a doctor, obtain free medical treatment quotes, and uncover affordable medical treatments at destinations of their choice. Improving Patients Lives |The company provides access to exclusive doctors and hospitals who specialize in infertility, plastic surgery, cosmetic dentistry, laser eye surgery, orthopedic surgery, hair transplantation, weight loss surgery, heart surgery and cancer care. Patients are matched with devoted multilingual patient facilitators and provided tangible connections to doctors worldwide. Promoting Your Healthcare Brand | For the ultimate connection between the healthcare industry and patients worldwide, the company delivers an unrivaled commitment to create sustained value for medical partners. Contact VisitandCare.com to see if you are eligible to become a partner of the exclusive network.