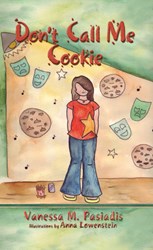 Houston, TX (PRWEB) December 18, 2013
One of the biggest challenges parents face today is raising healthy and happy children. For mothers with young daughters in todays overly connected world, its become increasingly difficult to get through with a positive message. Sometimes help is needed to start this conversation.
Vanessa Pasiadis, author and former teacher, was Keynote Speaker at GiRL Power 2013, a nonprofit event run by the Laura W. Bush Institute for Womens Health and Texas Tech University Health Sciences Center. Held on November 23, 2013, the "Believe & Achieve" event engaged 400 young girls and their adult female mentors in dialogue about various issues impacting the young girls.
Pasiadis book, "Dont Call Me Cookie," addresses one of the most challenging topics for youth today: obesity and learning to live a healthy lifestyle. While a tough topic, its a fun and inspiring story for young readers about a 12-year-old girl with a passion for acting. Like many other children, though, shes overweight.
"The topic of my address was Green Means Go and provided a blueprint for a tweens healthy lifestyle based on the principles and storyline of Dont Call Me Cookie," said Pasiadis. "It was a wonderful experience to see the positive reception from the girls and their mentors." Pasiadis signed and provided 250 books for the young girls in conjunction with her keynote address.
Published by Strategic Book Publishing and Rights Agency, the book has been endorsed by health professionals, including Leona Cuttler, M.D. the William T. Dahms Professor of Pediatrics and the Chief of Pediatric Endocrinology, Diabetes and Metabolism, University Hospitals of Cleveland, Rainbow Babies and Childrens Hospital.
"Dont Call Me Cookie' is a valuable tool for health professionals working with children who are overweight or obese. It is also excellent for families who want to discuss nutrition, exercise and weight with their children," said Dr. Cuttler.
Instead of a negative message of diet and deprivation, this book focuses on how pre-teens and their families can create long-term habits that embrace a healthy lifestyle of food, exercise and common sense. Its a must-read for young children, especially those facing the very large and growing problem of obesity.
"Dont Call Me Cookie" is available on Amazon and Barnes & Noble, among others.
About Vanessa Pasiadis
Vanessa M. Pasiadis, a Cleveland, Ohio-based author, was involved in high school dramatics in Pittsburgh. She graduated from the University of Pittsburgh's Graduate School of Public Health with a Masters degree in Health Administration. A former teacher and health care consultant, the author wants to help young people lead a healthy lifestyle through good nutrition and fun.
About Strategic Book Publishing and Rights Agency
With more than 5,000 published authors to our credit, Strategic Book Publishing and Rights Agency (SBPRA) has the experience, expertise, and international network that authors seek and need to be successful in todays ever evolving publishing industry. We are your complete book publishing and comprehensive marketing support solution. For more, visit http://sbpra.com/.
Source Strategic Book Publishing and Rights Agency
Find More Diet Press Releases