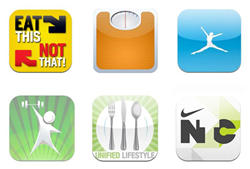 Bethesda, Maryland (PRWEB) April 29, 2015
Self-monitoring is a behavior technique that has been positively associated with weight loss. The explosion of weight-loss apps and on-line resources empowers dieters with information at their fingertips to make the smartest food and beverage choices possible. The Calories In, Calorie Out Cookbook (The Experiment, 2015) was designed to support this new wave of calorie awareness by offering 200 family-friendly, low-calorie recipes and practical calorie information.
The Scientific Report of the 2015 Dietary Guidelines Advisory Committee found moderate evidence, primarily from overweight adult women, that self-monitoring of diet, weight, or both, in the context of a behavioral weight management intervention, incorporating goal setting and performance feedback, improves weight-loss outcomes.
Hutchesson and colleagues (Journal of the Academy of Nutrition and Dietetics 2015;115:87) sought to determine whether the traditional paper records or the online record keeping would be preferred in young women. They evaluated the acceptability and accuracy of three different 7-day food record methods: online via computer; online via smartphone; and paper-based. The women, who were between the ages of 20 to 26 years, completed the three 7-day food records in random order with 7-day washout periods between each method. The average body mass index was 24 and the participant's weight remained stable throughout the study. All three methods were similar in terms of estimating calorie intake. Half of the women preferred computer recording, 44% preferred smartphone recording, and only 6% preferred paper-based records.
According to Elaine Trujillo, MD RDN, co-author of The Calories In Calories Out Cookbook, "There is a great interest in the use of information technologies for weight loss and obesity treatment. These technologies have the potential for instant recording of food, calories and physical activity and may possibly lead to quicker feedback from counselors than traditional reporting methods."
Earlier studies found potential benefits of mobile monitoring. Turner-McGrievy et al. (Journal of the American Informatics Association 2013;20:513) looked at self-monitoring of diet through an app, website, or paper journal and physical activity monitoring through an app or no app in a group of overweight men and women. Although they found no difference in frequency of monitoring whether participants used an app, website or paper journal, the app users consumed less calories than the paper journal users at six months. Also, physical activity app users self-monitored exercise more frequently over a 6-month period and reported greater intentional physical activity than non-app users.
More research is needed to determine the role of computer self-monitoring technologies in weight loss management. As noted in the Scientific Report of the 2015 Dietary Guidelines Advisory Committee, mobile health technologies have the potential to reach larger portions of the populations than face-to-face interventions, but the effect sizes of mobile technologies may be small and the attrition rates may be large. Larger, more representative study populations and longer study periods will permit an assessment of the generalizability and sustainability of mobile health.
CATHERINE JONES is the award-winning author or coauthor of numerous cookbooks including The Calories In, Calories Out Cookbook, Eating for Pregnancy, and Eating for Lower Cholesterol. She is the co-founder/CEO of Werbie, LLC, a startup connecting women and technology, and a co-founder of the nonprofit Share Your Calories. She is a blogger and freelance journalist.
Elaine Trujillo, MS, RDN, is passionate about nutrition and its role in health promotion. She uses a variety of approaches to share her views and findings about nutrition, including co-authoring, with Catherine Jones, The Calories In, Calories Out Cookbook and Eating for Lower Cholesterol. In addition to authoring the textbook, Nutritional Support in the Care of the Critically Ill, she has written various nutritional science-related journal articles and book chapters.