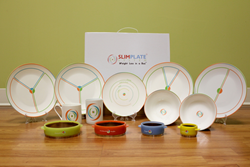 Rock Hill, SC (PRWEB) June 27, 2014
The team behind the proven SlimPlate System of weight loss have today revealed their tips and tricks for dealing with diabetes during the summer months in a new series of ask the experts – and it all comes down to portion control.
SlimPlate System is a unique method of portion control that can help to trigger weight loss and keep it off – ideal for those who suffer from diabetes and need to maintain a controlled diet in order to keep their blood sugar levels steady. Now the experts behind the portion control plates have offered their tips for diabetes sufferers during the summer season, when it can be only too tempting to reach for a sugary snack or gorge on fruit in the heat.
Dr. Myo Nwe, the physician who invented the SlimPlate System says, "Diabetes is a tricky condition to manage, but controlling portions using methods like ours can be a very effective way of maintaining blood sugar levels. People rarely feel like eating heavy stews or carb-laden dishes when the temperature rises, and our collection of dinnerware can help those with diabetes control their portions sensibly throughout the summer season."
The first tip from the team at SlimPlate System is for diabetes sufferers to carry a method of portion control with them at all times. Whether it's a small cup to measure out fruit portions or a personal plate that they can measure their food intake on, it's important that whether they're attending a barbecue or a summer garden party, they are still in control of their food.
Secondly, for those who don't have access to fresh fruit and just want to reach for a sugar snack, ensure that they are still eating to the recommended portions. Using the SlimPlate System means that no foods are ruled out, but for diabetes sufferers it's important to strictly monitor the intake when it comes to sweet snacks and treats.
Dr. Myo Nwe strongly advocates remaining hydrated at all times. Dehydration, or the loss of body fluids, can occur when blood glucose is not under control for diabetes sufferers. Alcohol intake should be limited as much as possible, and caffeine-free fluids should be ingested often to remain hydrated and keep glucose levels consistent. For those who are really craving a fizzy, sugary soda, it's vital to stick to recommended portions using measuring tools like those provided by SlimPlate System.
The unique weight loss and portion control method, SlimPlate System, also advocates eating often. The plan includes three meals and two snacks every day, which is very

beneficial for those who are managing diabetes. The experts at SlimPlate System also encourage diabetes sufferers to check their blood glucose levels multiple times a day to be sure that their levels are within the acceptable boundaries. It's also important to remember to carry portion-controlled snacks at all time to boost blood sugars if they should dip during a hot day.
To find out more about SlimPlate System, visit the website: http://www.slimplatesystem.com/
About SlimPlate System:

SlimPlate System is a four-stage weight loss program that shuns deprivation for portion control. The system, which has been designed by physicians and proven by research, is easy to implement and maintain, with no calorie counting, costly supplements or juice fads.