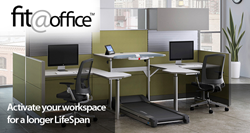 Baltimore, MD (PRWEB) October 30, 2014
SMARTdesks president, Jeffrey Korber, today launched a marketing division with the mission to make a difference in the health and wellness in its client base in education, healthcare, business, and government workplaces. The flagship product line of treadmills and exercise bikes manufactured by LifeSpan, is now being offered to transform once sedentary spaces where people work and study into active environments. SMARTdesks offers interior design space planning in conjunction with the sale and design of height adjustable computer tables and workstations to help institutions adopt healthy lifestyles for their workers and students. The LifeSpan equipment will be sold at competitive prices, and, as always, the interior design services are provided without additional cost to offer maximum benefit of a successful installation.
LifeSpan supports their products with a comprehensive selection of health monitoring devices and software that SMARTdesks offers, along with manual and electric motorized height adjustable computer tables and collaboration furniture. This enables classroom spaces to let students take notes in a lecture hall filled with rows of treadmills or exercise bikes with work surfaces for laptops or computers as needs dictate. Office spaces can share exercise equipment and have places to trade-off working while seated. Many activities, such as customer tech support, data entry, webinars, and collaboration meetings, can now have physical activity as a component: a bonus to overall health and personal development goals.
This YouTube Video from LifeSpan details the mission to improve cardiovascular health for those who work sedentary desk jobs: http://youtu.be/s0fEx6BUX7g
Why not just join a health club? For the majority of overweight and physically compromised, some behavior modification is necessary. It is too easy for the sedentary to rationalize their choices, based on their observations that they are, in fact, a majority. Their feeling of overwork and fatigue in their sedentary work style reinforces the imagined futility of their situation. They continue the status quo, saying that there is no time for the health club and personal economics won't allow it. They may even say that "you can lead a horse to water, but you can't make him drink" as an excuse to avoid a treadmill in their workspace. But horses follow each other by example, and those who lead will have followers. Followers who simply walk as they click and drag, or hatch ideas and solutions as they talk on the phone, or on treadmills side by side. The tipping point is to have the equipment available and make the opportunity to make active choices a reality in the workplace.
Inactivity is killing us! Registered Dietitian Timi Gustafson estimates that, worldwide, inactivity is the cause for 6 percent of coronary heart disease cases, 7 percent of Type 2 diabetes, 10 percent of breast cancer and 10 percent of colon cancer. As a contributor to premature mortality, it has lead to well over 5 million deaths, or about 9 percent of all deaths, in 2008, the year the data were collected. By comparison, smoking was estimated to have killed about 5 million people worldwide in the year 2000, a number that has gradually come down since.
The ADA, AHA and NIH say that Walking just 10,000 steps per day can:
Reduce the rate of Type II diabetes by 50% – American Diabetes Association

Reduce initial heart attack rate by 90% – American Heart Association

Reduce stroke rate by 70% – American Heart Association

Reduce cancer rate between 30 -70% National Institutes of Health

Moreover, walking provides general health benefits, reduces stress, can provide more energy, better sleep, fight fatigue and much more.
Typically, if you walk for an hour you take anywhere from 4000-6000 steps. Using a workout desk, you could easily top 10,000 steps a day and be able to realize the health benefits outlined above.*
*Source: http://EzineArticles.com/7348425
SMARTdesks designs and manufactures innovative, custom computer conference tables and computer classroom furniture. Each product is made to order, nuanced for the technology, purpose and interior design choices for the space. SMARTdesks is the patent holder for flipIT® products and is the sole source for flipIT and factory integrated flipIT furniture products. Serving universities, corporations, government and military clients world-wide, SMARTdesks furniture is made in the USA using Certified GREEN manufacturing methods. For more information, contact smartdesks through the web site— http://www.smartdesks.com