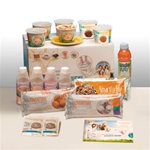 Tampa, Fl (PRWEB) December 31, 2012
Just in time to assist with consumers New Years Resolutions, health and weight loss knowledge resource SmartForLifeReviews.com releases an exclusive new coupon for users to receive discounted prices on great diet products from weight-loss product site SmartForLife.com. The coupon, which will be available to users through December 31, offers users the opportunity to save 5% on any meal replacement products, as well as other great health products available on SmartForLife.com.
The special deal launches a time when many Americans are looking to slim down after the holiday season, a time when indulgent meals and rich desserts are the norm. Likewise, the final days of the year are a time to look ahead to the New Year and contemplate self-improvement, and plan lifestyle changes to realize health, fitness and sex appeal goals.
For a limited time, this coupon will help customers do just that. Users can log on to SmartForLifeReviews.com and click on the Coupons tab to access their savings.
The holidays are a great time to be with family and enjoy good food and good company, says site owner David Pareto. Unfortunately that also means indulging in some pretty unhealthy habits. With this deal, were looking to help people transition back to a healthier routine and a positive outlook for the New Year.
Smart For Life