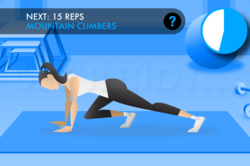 New York, NY (PRWEB) March 25, 2013
Diabetics are increasingly relying on their smartphones in their battle against the disease, mobile-technology experts say. According to Arshad Chowdhury, creator of the newly-launched exercise application Power 20, smartphone and tablet applications are already playing a significant role in diabetes care.
Its no surprise that doctors and patients are looking to smartphones to help fight diabetes, says Chowdhury. Today, 46% of Americans own smartphones, and one in ten Americans has diabetes. The number of diabetics will more than double in the next 25 years, so tools like Power 20, which can help control blood-sugar levels through guided exercises, are arriving just in time.
Chowdhury, a technology entrepreneur with a passion for fitness, created Power 20 to teach his diabetic relatives how to control their blood-sugar levels through exercise. Other technology entrepreneurs address the challenges of complicated medicine and food regiments associated with diabetes. AdhereTech offers smart bottles that count pills and remind users to take their medication through text messages, while the Track 3 application lets people log their diet and sugar levels.
Doctors are starting to suggest applications to patients. We always tell patients to eat right and exercise, says Dr. Michael Redlener, Director of Prehospital Care at St. Lukes Roosevelt Hospital Center in New York City, but Power 20 gives us a tool to share with our patients on an easy-to-implement exercise regiment. The more specific physicians can be with their patients about how to achieve cardiovascular health, the more likely patients with diabetes and risk of heart disease will be able to reach these goals.