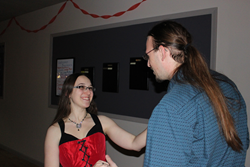 St. Louis, MO (PRWEB) March 31, 2014
St. Louis based Prestige Ballroom finds as a growing number in our population continues to age, more and more people find themselves looking for a fountain of youth. While there is no magic elixir, there are life style choices one can make to help themselves age gracefully and enjoy a higher quality of life into old age. Ballroom dancing at Prestige Ballroom (http://www.prestige-ballroom.com) in St. Louis is a great way to help improve quality of life! Lifestyle choices such as exercising regularly, reducing stress, enjoying social activities and simply being happy all add to a high quality of life. Ballroom, Latin and swing dancing improves all of these, while adding a host of other benefits as well.
According to a study by Standford, dancing has been shown to reduce stress, increase serotonin levels, and increase a person's sense of well being (http://socialdance.stanford.edu/syllabi/smarter.htm). Dancing is also a great way to meet new people and make new friends. Studies are indicating that having regular social interaction may improve an elderly person's health. According to an article by the National Institute on Aging, a person who is isolated and alone may become depressed. Isolation may even lead to physical ailments such as elevated systolic blood pressure (http://www.nia.nih.gov/about/living-long-well-21st-century-strategic-directions-research-aging/research-suggests-positive). Let's face it, dancing is simply fun! Between having fun, creating a friendly social outlet, and reducing stress, dancing can help make someone really happy.
Another key aspect to aging gracefully is to stay physically active. According to an article by AARP, dancing is a great way to achieve the benefits of a regular exercise program (http://www.aarp.org/health/fitness/info-2005/dance_to_health.html). Dancing is a great cardiovascular exercise. It burns calories and improves cardiovascular health. But dancing is also a great weight bearing exercise to help increase muscular endurance and bone mass, which can help prevent osteoporosis. Dancing also greatly improves balance and coordination, which can help prevent a dangerous fall.
Dancers at ballrooms around the world, have fun, make new friends, reduce their stress, and increase their happiness all while enjoying a regular exercise program that doesn't feel like exercise at all. It's no magic elixir, but there is a special kind of magic in the air at Prestige Ballroom in St. Louis.