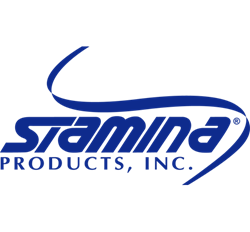 Springfield, Mo. (PRWEB) November 19, 2014
Stamina Products, Inc. today announced that company representatives have verified their AeroPilates Reformers remain the only line of residential Pilates equipment complete with the patented Cardio Rebounder, which combines cardiovascular exercise and Pilates training into one uniquely effective fitness program. As indicated in a clinical study published in the Journal of Fitness Research, the combination of an AeroPilates program and dietary modification can result in marked improvement in health and significant weight loss for individuals with metabolic syndrome.
The purpose of the clinical research involving AeroPilates was to explore the benefits and effects of Pilates, low-impact cardiovascular exercise and nutritional intervention for individuals whose obesity has progressed to metabolic syndrome—the clinical name for the group of risk factors that can lead to Type II Diabetes and heart disease. Led by Denver Center for Health & Sport Science Medical Program Director Neil Wolkodoff, PhD, the six-week study involved ten intervention subjects and four control subjects, all of whom met the criteria for metabolic syndrome and were verified as "previously sedentary subjects" prior to the the study. As Wolkodoff stated after first publishing the results, the "patients made significant improvements in physiological measures and health status" after just six weeks of a balanced calorie-deficit diet and the combined strength and aerobics fitness elements AeroPilates offers.
Statistically Significant Results with AeroPilates
Published as "The Physiological and Health Effects of a Pilates Program combined with Nutritional Intervention on Subjects with Metabolic Syndrome," the study indicates the AeroPilates Reformer helped lead to statistically significant (p<.05) benefits for intervention subjects:


Total weight decreased by 16.1 pounds
Body fat decreased by 2.58%
BMI decreased by 2.5
Waist and hip measurements decreased by 3.65 inches and 2.33 inches respectively
Systolic blood pressure decreased by 10 millimeters
Muscular endurance increased by 19.7%
Blood markers improved, including decreased total cholesterol, triglycerides, glucose levels, Homgebin A1 c, Plasmas Inhibitor Type 1 (PAI) and Leptin
Additional Compelling Indications from AeroPilates Study
The published Pilates Metabolic Syndrome Study results included several indications that AeroPilates is more efficient than similar forms of exercise. For example, the journal article stated that investigations with the intervention group "indicated that rebounding, or the trampoline-like jumping motion with the Pilates carriage was slightly better in energy expenditure per minute compared to elliptical, treadmill and recumbent cycling exercise at the same rate of perceived exertion." Because that rate of energy output "is not found in other Pilates devices," Wolkodoff theorized that it [the Cardio Rebounder] is "a factor in the physiological changes the subjects made in the short period of time."
Wolkodoff also called attention to the importance of the results, given that the population being studied "has traditionally been resistant to weight loss." Researchers appeared to be particularly encouraged because the amount of weight loss experienced "can reduce the risk of Type II Diabetes by 2/3." With an estimated 30% of the U.S. population measuring as overweight or obese, embracing effective and comfortable exercise options is widely considered critical to fighting both Type II Diabetes and heart disease.
AeroPilates Co-Founder Marjolein Brugman, a renowned Pilates and fitness expert, notes that Wolkodoff's findings reflect the evidence she has seen first hand during nearly ten years spent training clients with various AeroPilates Reformers: "Even clients who suffer through obesity and other debilitating issues can achieve noticeably better health and fitness through AeroPilates, because the complete, low-impact exercise program lets them burn calories, lose weight, get strong and become heart healthy—all while lying down, without hurting their joints."
Brugman added that no matter how many times she sees it occur, "it is powerfully moving and inspirational to witness the transformation as people go from listless and often depressed to healthier, active and energetic."
For more information on AeroPilates Reformers, the Cardio Rebounder or Wolkodoff's research, contact Stamina Products at 417.889.7011 or by email at presscontact(at)staminaproducts.com.
Reference

1. Wolkodoff, N.E., Andrick, R., Lazarus, E., Braunstein, B., and Patch, T. "The Physiological and Health Effects of a Pilates Program combined With Nutritional Intervention on Subjects with Metabolic Syndrome." Journal of Fitness Research. 2013; 2: 17-29.