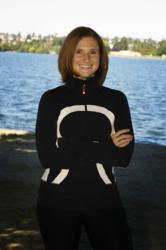 Seattle, WA (PRWEB) September 14, 2012
Sara Dean, ACSM HFI has created an award-winning workout program for moms. Deans SuperMom Workout Program takes moms from frumpy and frustrated to fit and fabulous. Her programs have been featured in The Seattle Times, Queen Anne News, and on ABC. Now, the SuperMom Workout Program is being offered at a special price ($ 77.00) for a limited time.
I wanted to get moms motivated. No matter how old a moms children may be, there is no excuse for her not be working for a healthier, leaner body, said Sara Dean. A skinny body makes women feel sexier and leaves them healthier. I know the economy isnt the best right now. But, I want women to try out this program. I know they will be satisfied with the results.
The Complete 5 Week SuperMom Fast Fat Loss System consists of: Hormone Syncing Diet Manual; Less Time More Burn Training Guide, 4 SuperMom Follow-Along Strength Workouts, 4 SuperMom Follow-Along Interval Cardio Workouts, 60 minute Yoga and 30 minutes Pilates Workouts, Success Mindset & Motivation Manual, SuperMom Success Journal, SuperMom Recipes, Jump Start Checklist, and bonus materials. The bonus gifts include: SuperMom Supplement Guide and the Secrets of Real Life SuperMoms.
Sara Dean promises results. In fact, she guarantees results. Im allowing women to test drive the entire 11 component (worth $ 677) for a full 60-days, including all 10 workout videos and the Hormone Syncing Diet, at a flat rate of seventy-seven dollars, continued Dean. If a mom doesnt see, or start to see, results within sixty days then I will gladly refund her the entire payment with no questions asked.
The SuperMom Workout Program can be purchased using PayPal or any major credit card by clicking here: http://supermomworkouts.com/ Members of the media can receive a gratis copy of the program by using the contact information found within this release.
Related Recipes Diet Press Releases