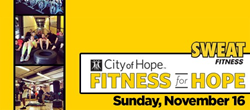 Philadelphia, PA (PRWEB) November 05, 2014
SWEAT Fitness, a Philadelphia-based gym, announces their FITNESS for HOPE 2014 event. 100% of the proceeds from the fundraising event will benefit the City of Hope cancer and diabetes research programs.
SWEAT's FITNESS for HOPE 2014 fundraising event aims to raise money for City of Hope to help fund cancer and diabetes research, treatment and education programs. City of Hope was founded in 1913 and is one of only 41 comprehensive cancer centers in the country, as designated by the National Cancer Institute.
FITNESS for HOPE 2014 Details:

Date: Sunday, November 16, 2014
Time: 9:00 am – 1:00 pm
Location: SWEAT Center City, 1425 Arch St. Philadelphia, PA 19102
Phone: 215-564-0303
During the fundraising event, participants will be able to work out for a cause which includes an extensive line-up of various exercise programs from running to cycling. Participants are asked to donate or raise $ 50 which provides for entrance into the event, participation in a silent auction, free refreshments and a gift bag worth $ 50. 100% of the proceeds generated from FITNESS for HOPE 2014 will go directly to City of Hope.
"We love throwing this event every year," said Tracy Shannon of SWEAT. "It's a wonderful way for us to give back and help those in need. Combining an invigorating workout with this fundraiser makes you feel great by contributing your mind and body to a good cause."
About SWEAT Fitness:

Here at SWEAT, everyone is welcome! It doesn't matter your age or what shape you're in. We are committed to providing a great environment in which everyone can feel comfortable to achieve their fitness goals. Our staff and fitness professionals are here to help you on your fitness journey! As a member of SWEAT, you receive unlimited access to all our 8 clubs.
Find More Exercise Press Releases