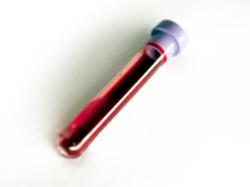 Seattle, WA (PRWEB) August 06, 2012
The Tahoma Clinic, a leading holistic clinic specializing in natural and science-based therapies, is the first clinic in the Seattle area to offer a new blood viscosity test that offers unprecedented insight about a patients blood viscosity for earlier detection of cardiovascular risks. The test can offer an early warning to patients and their doctors for prevention of future heart attacks and strokes. Unlike viscosity tests that use serum and plasma, the Complete Blood Viscosity Profile tests whole blood and is thus able to provide information about the actual ability of blood to flow.
When people hear about viscosity, they often think of motor oil and, as we know, it is important to have the right oil viscosity to keep oil flowing and your car running smoothly, says Dr. Jonathan V. Wright, internationally known physician, author and the Tahoma Clinics founder and medical director. Just as oil in your cars engine that is too thick or thin can lead to engine damage and even breakdown, blood that is too thick or sticky can cause problems with blood flow and can damage your cardiovascular system. The Complete Blood Viscosity Profile test is important for anyone over the age of 60 and highly recommended for people with any personal or family history of heart disease or stroke, personal or family history of diabetes, metabolic syndrome or obesity, or high blood pressure. Testing blood viscosity is also highly recommended for people with high LDL cholesterol and for smokers.
As part of the Baltimore Longitudinal Study of Aging, researchers at the National Institute of Aging demonstrated the critical relationship between blood viscosity and age. There is almost no age-associated increase in viscosity until 60 years of age, but after 60 years, blood viscosity often increases exponentially, significantly increasing risk of cardiovascular disease and stroke . The Complete Blood Viscosity Profile is a vital test for all adults over 60 , and in general health assessments for earlier, more accurate detection of cardiovascular risk.
A few clinical reference labs claim to offer whole blood viscosity, however these tests are just for systolic blood viscosity (which measures principally blood thickness), not diastolic (which measures not only blood thickness, but stickiness, too). In a way, this is like testing with a blood pressure cuff and only measuring systolic pressure, not diastolic. The Tahoma Clinic uses an automated scanning capillary viscometer that acquires a Complete Viscosity Profile (10,000 points on a curve instead of just a 1-point measurement) for each patient. It is the only way available to measure systolic and diastolic blood viscosity and learn about both the thickness and stickiness of blood.
Anyone interested in taking a blood viscosity test may schedule an appointment at the Tahoma Clinic by calling 425-264-0059 (Renton) or 206-402-4215 (North Seattle). The Renton clinic is located only 15 minutes from Seattle, Bellevue, and the Sea-Tac Airport at 801 Southwest 16th Street., Suite 121, Renton, Washington 98057. The North Seattle Clinic, is located at 2611 Northeast 125th Street., Suite 228, Seattle, Washington 98125, just one I-5 exit north of Northgate.
About The Tahoma Clinic
Dr. Jonathan V. Wright, Medical Director, established the Tahoma Clinic in 1973. He is a pioneer in natural holistic medicine and bio-identical hormone replacement therapy. The Tahoma Clinic emphasizes the use of natural substances and natural energies for both the prevention and effective treatment of any health problem not requiring surgical intervention. Tahoma Clinics approach includes a personalized total-health evaluation to assess diet, exercise, supplementation, digestion, assimilation, metabolism, deficiencies, allergies and toxicities. Our 39 years of experience have taught us that a large number of symptoms and conditions unresponsive to conventional treatment or only suppressed by patent medications will yield to the application of Natures remedies. More information is available at http://www.tahomaclinic.com
Media Contact:

Ann Krauss

PERCEPTURE

Phone: 520.331.2327

ann(at)percepture(dot)com