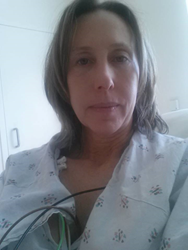 Los Angeles, CA (PRWEB)
June 23, 2015
Thankful to still be alive, Hollywood actress Kellie Koppel is looking for a happy ending to her epic-sized battle. After having found an extremely rare Clivas Chordoma brainstem tumor, actress/host Kellie Koppel says "brain cancer is not a life sentence…it is a once in a lifetime opportunity." While the surgery team was being assembled, her entire system crashed causing her organs to shut down and her weight to plummet from 125 lbs to 95 lbs seemingly overnight. With no answers provided from Kellie's medical doctors, she was referred to David Simpkins, a Natural Health Consultant and Energy Medicine Practitioner. David has the unique ability to "see" and work with energy in a very profound way. A well-respected Practitioner, David's remarkable skill set allows him to capture energy readings for all physiological aspects of the body. He charts and monitors energetic imbalances and then analyzes and determines effective healing recommendations, without even seeing his client. Under the guidance of David, Kellie has followed rigorous herbal, supplemental, energetic and dietary recommendations that have saved her life. Grateful for a current weight gain of twelve pounds and relieved to see such an improvement in her condition, together, they are now working to dissolve the tumor with hopes of avoiding the need for surgery.
Since the age of seven, acting has been a part of the native Texan's life. Having built a promising career in acting, hosting, and filmmaking in Los Angeles, Kellie has landed roles in shows such as "Criminal Minds," "Parks and Recreation," and "Suburgatory." With a talent for writing and producing, her projects have screened at the Cannes International Film Festival for the past three years in a row. Creator of the digital series "It's So LA," Kellie launched and hosted red carpets for high-profile, Hollywood events, and film festivals worldwide.
On Nov. 4, 2014, at seven a.m. and the top of her game, Kellie walked into LAC=USC hospital's emergency room and was handed the most challenging role to date. Discovering a golf ball-sized mass growing from her brain stem, what followed was a week of MRIs, head CTs, and intensive testing. Her doctors determined the only option for treatment was to schedule a series of risky, invasive surgeries to remove as much of the tumor as possible. The goal in mind was to relieve the pressure of the tumor on the Pons area of the brain that was causing Kellie stroke-like weakness, slurring of speech, memory loss, and tremors. Their more critical concern is its intrusion into her autonomic system; that controls breathing, heartbeat, and all life-sustaining bodily functions. Kellie shares, "When your neurosurgeon looks you in the eye and tells you you're in between a rock and a hard place, you know it's not good."
Armed with faith and determination, Kellie has opened her journey to the thousands who have been following her on Facebook. Before working with David, her fight for health included natural alternatives such as Rick Simpson Cannabis Oil, drinking baking soda and molasses, Ozone Therapy, detoxification baths, herbal enemas, DoTerra Essential Oil Therapy, and a restricted raw diet. Now, unable to pay for treatments, Kellie is reaching out for help. In and out of hospitals, Kellie has been unable to work since October and has entirely emptied her savings. Prompted by friends, Kellie launched a crowdfunding campaign back in November 2015 on the "Go Fund Me" platform. Because of her health, she was unable to promote. Now, desperate to continue treatments, she has since set up BrainChild114.com website, to hopefully help fund her dire health care needs. Health Consultant, David Simpkins is fully on board to assist in raising funds for Kellie's treatments. By offering healing insights and education, energy work, and answering health questions on a 90 minute, live Teleseminar scheduled for June 27, 2015 at 10 a.m. PST, the call will request a $ 25 donation. Guests can register for the live call or re-broadcast at Brainchild114.com. The information presented will benefit those wishing to prevent illness and especially those with chronic pain and/or life-threatening conditions such as Cancer, Diabetes, AIDS, MS or Alzheimer's. For one time only, a one-on-one consultation package will be offered to David's callers who would like to work with him privately, with portion of each appointment proceeds going towards Kellie's needs.
Compassionate and driven, Kellie is determined to stand as a beacon of hope and inspiration for others who are facing catastrophic health challenges. In honor of the day, her tumor was first discovered, "Brain Child 11/4" has become her signature campaign to help collect funds. Prayers, support, alongside conversations regarding integrative healing and shared stories are welcomed On Kellie Koppel's Facebook Page,Facebook.com/HollywoodHealthGroup. For information and resources on natural health alternatives, please visit HollywoodHealthEssentials.com.
About Kellie Koppel: After battling Brain Cancer and Severe Autoimmune Disease for the past year, Kellie has passionately directed her creative energies and public voice to the Natural Health and Wellness arena. Her plans include writing a book and screenplay to share her fascinating journey. Kellie is available to interview via phone, in person, or email in hopes that her story brings strength and inspiration to others. Kellie's perspective on health and lifestyle is as unique as she, standing out in the crowd. Through authenticity, inspiration, and experience firsthand, Kellie has an artful way of focusing on the healing and not just "the story" of the challenge.
Related Weight Loss Press Releases