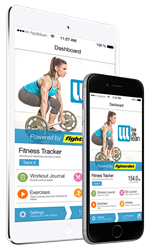 Los Angeles, CA (PRWEB) September 26, 2014
Pauline Nordin, creator of NBC's "The Butt Bible," the DVD that outsold Jillian Michaels on Exercise TV, announced today her new program called Live Life Lean. Live Life Lean is a fitness app that will be powered by Nordin's wildly successful Fighter Diet. The ultimate goal of the new app is to defatten America by giving users weight management tools and professional fitness advice. The app is available on the App Store.
Before arriving in America, Nordin made a name for herself in her native country of Sweden. While working as a trainer, she caught the attention of the Biggest Loser producers, and earned a spot as the trainer, diet coach, and leader of the winning team for the 2006 Scandinavian version of the Biggest Loser. Having tasted victory, Nordin moved to America with the hopes of spreading her message to a wider audience.
"I want everyone to do the best they can with the ability they've got. There are no excuses," said Pauline Nordin, creator of the Live Life Lean program. "I'm fed up with the Photoshopped photos in magazines. I will not be part of that culture by having my own photos Photoshopped. I show you the real deal in my videos and I take pride in it. I want women to understand that looks are not important at all unless you focus on the inside too. Muscles are built with a strong mind, a chiseled body is built by a strong mind. You see where I'm going with this?"
Nordin has defined her brand with a tough, straight forward style of coaching. In late 2008, she founded Fighter Diet, a comprehensive fitness program consisting of ebooks, diet advice, videos, nutritional supplements, and an inspirational community of physique hunters. Fighter Diet will inform the new Live Life Lean fitness app. Users can expect the same level of no nonsense coaching in the app. In the app, users are able to watch training videos, access a food journal, and receive professional advice from Nordin. She hopes the app will empower users to take control of their lifestyle now, not later.
About Pauline Nordin

Pauline Nordin is a world renowned fitness trainer and creator of Fighter Diet and Live Life Lean. With 1 million followers on social media, her unique brand of fitness resonates with both men and women. Find out more about Nordin, her program, and app on FighterDiet.com and LiveLifeLean.com.