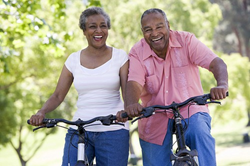 Neenah, Wis. (PRWEB) May 28, 2014
National Senior Health & Fitness Day is May 28, and this year's theme is "Make a Move Toward Better Health!" Staying active has benefits at every age, which is why this is ideal when seniors and caregivers can encourage one another and work toward common goals, says Dianna Malkowski of The CareGiver Partnership.
"Exercise helps relieve stress, strengthens muscles, and even helps manage high blood pressure, diabetes and other conditions," says Malkowski, who is a physician assistant, nutritionist and professional adviser for The CareGiver Partnership, a national retailer of incontinence products and other home health care supplies. "Exercises like Kegels can even help individuals better manage incontinence by strengthening the pelvic muscles that control urine flow."
"Staying active is just as important for caregivers. With the challenging roles they fill, staying happy and healthy makes them better caregivers," she adds.
Malkowski offers five ideas for making a move toward better health:
1. Aiming for at least thirty minutes of moderate exercise most days meets the recommendation for most adults. Examples of activities that caregivers and their loved ones can enjoy together include walking, bicycling, gardening, water exercises, yoga and resistance band exercises.
2. Caregivers and seniors can motivate one another to keep active. Patient, positive persuasion has a higher rate of success than coercion. Reminding a loved one of exercise's effects on health, well being and longevity often is the best approach. Other family members or friends might join in the activity to provide praise and encouragement.
3. Setting and working toward goals together can be motivating and rewarding. An example is teaming up to participate in a community event, such as a 1-mile walk or even a 5K. A senior can begin with short walks, journaling her progress while reaching small, manageable goals along the way.
4. It's important to consult a physician before beginning any exercise program. A senior may be reluctant to discuss medical problems with family members for fear of loss of independence, so it's important to encourage a loved one to be honest with his doctor.
5. A regular exercise program is more effective when seniors and caregivers also follow healthy eating habits, stay hydrated, get plenty of sleep, and find ways to manage stress.
The 20th annual National Senior Health & Fitness Day on May 28 is one of the nation's largest health promotions for older adults. Recognizing the important of staying active, organized fitness events for older adults will take place at more than 1,000 locations, including senior centers, hospitals, parks, churches and other community locations. Visit FitnessDay.com for more information.
For further reading on health and wellness and other topics of interest to caregivers and seniors, visit The CareGiver Partnership blog or see its collections of caregiver health tips and daily affirmations on Pinterest.
Dianna Malkowski is a Board Certified Physician Assistant and Mayo Clinic trained nutritionist specializing in diabetes, cancer, wound healing, therapeutic diets and nutrition support. She serves on the board of professional advisors for The CareGiver Partnership and enjoys working with patients and caregivers alike. Ask Dianna a question, or call 1-800-985-1353 for Personalized AttentionSM from a product specialist.