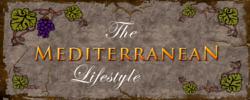 (PRWEB) September 27, 2012
In their most recent publication, company founder T.W. Anderson and co-author Melissa Williams from TheMediterraneanLifestyle.com go deeper into the physical nutrition of The Mediterranean Diet and how the various nutrients combine for Olympian health and wellness. While most Western societies are only familiar with Greek salads and olive oil, there are literally thousands of various aspects working together to create the raw synergy of elements working together within the diet, and they go far beyond simply salads, feta cheese and olive oil.
Experts from around the world, such as those behind a study published in the European Journal of Clinical Nutrition on May 29th, 2012 from a research team in Spain, have long known TMD can increase the quality of life for the average individual. They looked at over 11,000 university students over the course of four years and found that their mental and physical health along with general outlook and positivity were all favorably affected. And while weight loss is expected with overweight and obese individuals, it is the overall health benefits that make the way of life so popular with modern vegans, vegetarians and whole food enthusiasts.
T.W. Anderson, author of Olympian Health and Wellness According To The Mediterranean Diet and co-author of the 30 Day Mediterranean Diet Nutrition Guide alongside Melissa Williams, spent six years traveling to and over two and a half years living in Eastern Europe and The Mediterranean while researching and living on the foods of the countries in the region. Its more than just one country following what most people know as the Traditional Mediterranean Diet. Its actually French, Arabic, Greek, Italian, Spanish, Bulgarian, Turkish, Macedonian, Serbian and beyond. And just as modern science cant fully explain things like The French Paradox, there are a lot of aspects we are just now starting to understand in regards to The Mediterranean Diet and how the complex combinations of whole foods work.
The 30 Day Mediterranean Diet Nutrition Guide from The Mediterranean Lifestyle goes beyond the case studies, the research and the thousands of years of recorded history laid out in the Olympian Health and Wellness eBook. It is supplementary material that is only available for the Kindle Reader directly from Amazon.com and includes a breakdown of the daily nutrition needs for normal and physically active people, along with over 100 easy-to-prepare whole foods recipes from Italy, Greece, Spain, Bulgaria, Macedonia and even elements of Mexican and Colombian thrown in.
The Mediterranean Lifestyle is a world leader in whole foods, healthy living and everything related to The Mediterranean Diet and Lifestyle. Their primary eBook, Olympian Health and Wellness, details founder T.W. Andersons loss of over 50 pounds and consequential life-changing health benefits while living in Sofia, Bulgaria following the diet and lifestyle, leading to the foundation of the brand and a passion for whole foods and healthy living. For more information you can check out their website at http://www.themediterraneanlifestyle.com.