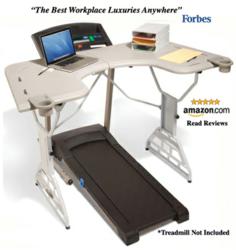 Scottsdale, AZ (PRWEB) October 31, 2012
Recent research published in Circulation: Journal of the American Heart Association from the University of South Carolina should ease the minds of the more than 67% of overweight American adults. Maintaining or improving fitness levels was a more important indicator of preventing premature death regardless of body size. TrekDesk Treadmill Desk offers a unique solution to boost fitness levels without taking extra time out of the day.
The study conducted by the University of South Carolinas Arnold School of Public Health analyzed the health of 14,345 adult males found a significant association with lowered risks of premature death among those maintaining or improving fitness levels even after controlling for BMI. The study further found a 19% lowered risk of heart disease and stroke related deaths for every unit of increase fitness (measured as metabolic equivalent of task: MET) and a 15% reduction in death from any cause. Decreases in fitness levels were linked to increases in death risks however BMI change in itself was not associated with increased risk of premature death.
Lead researcher Duck-chui Lee stated the importance of the findings. This is good news for people who are physically active but can't seem to lose weight. You can worry less about your weight as long as you continue to maintain or increase your fitness levels."
We have been lobbying for a greater emphasis on activity levels as opposed to BMI metrics through our Movement Revolution over the past three years, stated Steve Bordley, CEO of TrekDesk Treadmill Desk. We could overturn the health concerns in this country in less than a year if we could convince each and every American to take 10,000 steps a day at a minimum and adhere to basic health guidelines for diet and lifestyle.
Designed to fit any existing treadmill, TrekDesk treadmill desk is an affordable, full sized, height adjustable workstation that allows individuals the opportunity to gain the necessary amount of exercise daily to maintain health, reduce stress, prevent disease, strengthen muscles, boost mood and productivity, without requiring additional time during the day or extra motivation. Wondering how to workout at work? TrekDesk offers the solution.
TrekDesk is currently available for sale online at http://www.trekdesk.com.
Join the TrekDesk Movement Revolution to learn more, win a free TrekDesk or ask any health related questions anytime at http://www.facebook.com/trekdesk, or follow TrekDesk on twitter http://www.twitter.com/trekdesk.