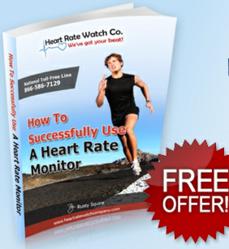 Bozeman, MT (PRWEB) January 01, 2013
The Heart Rate Watch Company is offering two free e-books to deliver fitness and dietary advice to give those with fitness, as well as weight loss, New Year's resolutions the very best chances for success. The e-books, "How To Successfully Use A Heart Rate Monitor" and "How To Elevate Fitness With Strength and Interval Training" are available as free PDF downloads in the blog/books section of the company's website.
"These books give very time-honored advice that has worked consistently for many years," says Rusty Squire, President of the Heart Rate Watch Company. He adds, "Building a solid fitness foundation, as well as a more active metabolism, takes consistency, patience and the restraint to exercise at a conversational pace for several months."
"The problem with many of today's so called 'exercise gurus' is that they are developing fitness programs for the upper 10% of the entire population, those who already have a substantial fitness foundation," says Squire. He adds, "This type of workout is not right for those looking to develop an aerobic foundation, in fact it is insanity."
WHY THIS WORKS
By exercising in fat burning and aerobic zones the body's metabolism increases around the clock. "It is also easier to want to exercise daily when you build up gradually and are not beating your head against the wall," says Squire, adding that, "An exercise program is only of value if you stick with it."
By using a heart rate monitor to carefully regulate activity levels and recovery it is possible to greatly improve the quality of a workout. "A heart rate monitor is like a tachometer for your body that helps you better regulate pace and output," says Squire.
"While the Heart Rate Watch Company sells Garmin, Suunto, Timex and Polar heart rate monitors, we consider ourselves a fitness advice company first and foremost," says Squire.
WHERE TO GET THE BOOKS
Simply go to the Free Fitness Books page at the Heart Rate Watch Company and you can download the books in an Adobe PDF to save to your own computer.