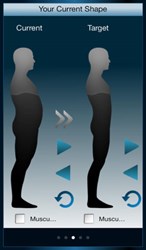 Cupertino, CA (PRWEB) November 14, 2013
People around the world who want to enjoy the benefits of healthy living in a way that goes far beyond just dieting and counting calories, can now download the innovative new app My Lifes Goal (MLG) from Time to Information, and clearly see a projection how the changes they make today can help them achieve the healthy body that theyve always wanted 10 years from now.
Designed for anyone who wants to lose weight, maintain weight, or gain weight, My Lifes Goal features an integrated weight management system that identifies each users BMI for both their current and target weight, and tracks their progress towards that goal. Plus, users are motivated along the way by a female or male silhouette that adjusts as they improve, and by a stream of helpful information on current and future trends regarding fat, sugar, antioxidants, exercise, sleep, and so on.
Many young people dont bother to diet, thinking that theyll always look as slim as they do today, but what if they could see themselves in 10 years. While society would like to believe that young people are becoming more health conscious, the reality for young people is that they care mostly about how they look. My Lifes Goal helps them to see what theyll look like in 10 years if they keep living the way they are today. They will see the effect computer activity, smoking, exercise has on their bodies 10 years from now.