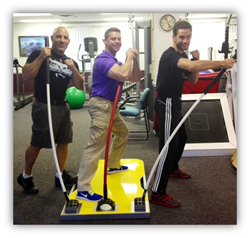 Los Angeles, CA (PRWEB) November 17, 2014
The art and science of fight training is in the midst of a revolution, thanks in part to Core Stix, a revolutionary piece of equipment beloved as much by professional athletes as it is by everyday users. Core Stix has been gaining more and more notice in recent years and was recently featured on HBO 24/7 as part of the training regimen of WBO Junior WelterweightChampion Chris Algieri, who will be fighting future Hall of Famer Manny Pacquiao on November 22.
As befits someone with a M.S. in Clinical Nutrition, Algieri has taken a similarly technical, yet holistic approach to training and conditioning, orchestrating a high-intensity workout meant to improve endurance, speed, and power. Core Stix has been integral to this effort. Though the Core Stix equipment appears simple — it consists of a base with a series of detachable rods of varying resistance — its virtue can be found in its extreme versatility and the way in which it allows fighters to train a wide variety of striking movements at a natural rate of motion.
According to his strength and conditioning team, Algieri has been using Core Stix to improve his overall metabolic conditioning, his localized muscle endurance (allowing him to throw more punches per round), and his rotational power and speed.
"Very few single systems allow fighters to train in a whole host of biomotor abilities the way that Core Stix does," stated Tony Ricci, a Fight Performance Coach and Algieri team member who created the first fight-specific Core Stix training program with Algieri nearly two years ago. "You can train the cardiovascular system, local muscle endurance, strength, power, and speed. You can do prehab and rehab work. And you can vary the intensity for a uniquely individualized workout." This is what Ricci loves most about Core Stix, in addition to its scalable, yet variable exercise options.
However, where Core Stix really shines for fighters like Algieri can be found in how it allows them to accurately mimic and train a variety striking motions in a way that improves their speed and punching power.
"Usually a machine dictates the range of motion," explained Doctor Michael Camp, Head of Strength and Conditioning for Team Algieri. "However, Core Stix allows a natural range of motion on many strikes at fight-realistic velocities while still applying resistance. You can take one of the white Stix and fire out a right hand and it doesn't inhibit the range of motion. You can't do that on machines and you can't do that on free weights. Core Stix also allows for all the rotational movements associated with a strike to be achieved naturally. With Core Stix, you can rotate the same way you would for any punch."
Dr. Camp noted that he and Ricci's favorite uses of Core Stix are the wide array of core rotational movements and the high velocity explosive deadlift due to its ability to improve triple extension. Because this is where power, speed, and rotation are generated, it is extremely useful in improving fight performance and is an integral part of Algieri's routine. In fact, that is one of the ways that Core Stix has been most valuable for Algieri as he prepares for his fight with Pacquiao.

"Core Stix has really helped Chris improve his rotational power, speed, and driving force from the ground up," stated Doctor Camp. "He's so well conditioned on his own that he doesn't need as much heart rate work, so we use Core Stix to improve power and driving force."
"What Team Algieri is doing is marrying the old style of skill training with advanced performance training protocols and nutrition," Ricci concluded. "We're complementing traditional methods with new techniques, strategies, and science … and Core Stix is a part of that. This is the future of fight training."
To see the HBO 24/7 episode on the upcoming Pacquiao/Algieri fight, go to: http://youtu.be/bzEyiqcgknw (Algieri's strength & conditioning coverage at 17:15).
To view a sample of Chris Algieri's Core Stix workout, go to: http://youtu.be/cZmKzQBWt34?list=PL7Z-GzQobhOMkFR564ujU2GYxChDssOHh
Company Information:
Core Stix started with one brilliant idea from Stanley Cup winning Strength & Conditioning Coach of the Pittsburgh Penguins, Mike Kadar – to create a workout device that trains top athletes and everyday users in a way that generates greater strength, power, and functional performance than anything the fitness market has seen. Designed by former Space Shuttle Design Engineer, Kregg Koch, Core Stix manufactures a range of devices for Upright TrainingTMused by professional athletes like boxing superstars Chris Algieri, Amir Khan, Alfredo Angulo, and others. Videos and other information available at http://www.corestix.com and http://www.youtube.com/corestix.