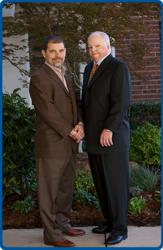 Edmond, OK (PRWEB) September 10, 2012
WeightWise Bariatric Program, a leading provider of weight loss surgery solutions in Oklahoma and surrounding Southern and Midwestern states, has agreed on a partnership with Vancouver, Washington Internet marketing company Webfor to take on several challenges related to raising awareness of the comprehensive weight loss program they offer.
Since opening the doors to WeightWise in 2006, Dr. Broussard and Dr. Walton have distinguished themselves as leading Oklahoma City weight loss surgeons, transforming the lives of hundreds of bariatric patients. In addition to the most obvious benefit to weight loss surgery weight loss there is mounting evidence that supports many residual health benefits, including diabetes prevention or reversal, normalized blood pressure, improvements in cholesterol levels, and much more.
Were very excited to be working with Dr. Broussard, Dr. Walton and their staff, says Webfor President Kevin Getch. They provide such an important service to people who need it the most. Were honored to play a part in helping them spread the word about the WeightWise program.
WeightWise has already established its reputation as a world class bariatric program, but with Webfors online marketing efforts, the two companies are working on an approach to build awareness and more exposure online to expand their practice and affect change in those who need it the most.
For more information on the weight loss surgery solutions offered by WeightWise, go to http://www.weightwise.com.
About WeightWise
WeightWise Bariatric Program, a weight loss surgery center in Oklahoma, emphasizes a multidisciplinary approach with their patients. One of things that set them apart from other clinics is that they offer patients all the health care professionals they need at their facility, rather than referring them to outside help. This helps build a cohesive approach to surgical weight loss, making the patient comfortable knowing every question they may have can be answered at the WeightWise offices.
About Webfor
Webfor is a Vancouver, Washington Internet marketing company that provides a comprehensive set of solutions for its clients, including website design, SEO, content marketing and management, and much more. Whether a business simply needs a website redesign or a more sophisticated set of web solutions, Webfor serves as a virtual Internet marketing department for its clients with the goals of increasing sales and gaining a strategic advantage over their competition.
Related Weight Loss Press Releases